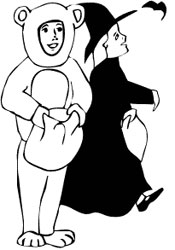 Trick or treating in Maine in the 60's was lovely...Simple costumes that we worked diligently on for at least a week. planning, using scraps of material from the tailor's discard bin at our parent's dry cleaning business. Stapling and glueing, borrowing our mother make-up when she wasn't looking because she didn't appreciate her red lipstick being used to cover such a large area of our face that it suddenly was only 1 inch tall when she opened it to use the day after Halloween.
We never had warnings to not wear dark clothes or have to check our bag of candy for dangerous anything. All we had to worry about was which house would have the best candy and goodies. We carefully planned it out by the street, starting our canvasing just as it was getting dark with large decorated grocery bag in hand and always a costume that was overly long and easy to trip over. We crossed street after street or passed piles of burning leaves that everyone always had burning eerily in front of their house.
Nothing bad ever happened to any of us other than we ate too much candy in too short a period of time. My sister and I would have a lengthy discussion on when to arrive at certain houses because the popular ones, the ones that made all their own luscious goodies were mobbed so you had to get there early. Mrs. Farrin was our second favorite. Every year she made three hundred caramel popcorn balls all wrapped in wax paper with small twine bows, followed by packs of two homemade cookies. When the cookies and pop corn balls were done the lights went out completely in her house. Some years her lights were out in an hour.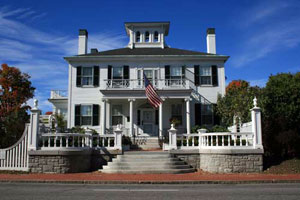 We had to plan out the evening like a timely battle plan saving the best for last. The best trick or treating was at the Governor's mansion which was in our neighborhood. The lights always stayed on until midnight and they never ran out of their incredible homemade lollipops. Governor Reed with his black horn rimmed glasses and Mrs. Reed with her odd colored beehive hairdo always opened the door together, invited us in to view our costume, have a brief conversation with us and lower a jumbo bowl filled with their famous homemade lollipops made by their cook. The cook was a legend and not just to me, she was always referred to as the best cook in Maine.
That poor woman must have made at least 2 or 3 thousand lollipops. She formed them in mini muffin tins that were well greased and used a simple popsicle stick on its side as a holder, then wrapped the jewel-tone lollipops in clear plastic bags. Her lollipops were the high point of Halloween and you licked at them slowly, resisting the urge to crack off a shard and make them last for forever or at least three days. That lollipop was like having a pirate's treasure and even better when your costume matched!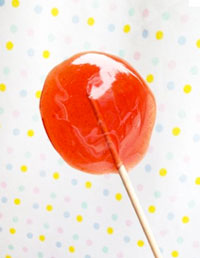 Magical Lollipops
1 cup sugar
1/2 cup light corn syrup
1/4 cup water
1 teaspoon extract, I prefer strawberry or raspberry
Food coloring, I prefer red
Wooden popsicle sticks
Spray nonstick cooking oil into the mini muffin pans being very careful to get an even coating. Combine the sugar, water, corn syrup in a 1-quart, heavy-weight saucepan over medium heat. Stir until the sugar is well dissolved. Bring to a heavy boil and insert a candy thermometer until it reaches the hard crack stage-295 degrees.
Remove from the heat and add your favorite extract and food coloring. Carefully pour into the mini muffin pans 3/4 of the way up the sides and insert the popsicle stick being sure to cover the stick with the hot sugar mixture. When cool remove the lollipops from the muffin tin by gently rapping the pan on a hard surface.
Brenda Athanus runs a small gourmet food shop in Belgrade Lakes, Maine with her sister Tanya called the Green Spot.
The Green Spot
This email address is being protected from spambots. You need JavaScript enabled to view it.This e-mail address is being protected from spam bots, you need JavaScript enabled to view it
207.441.9327