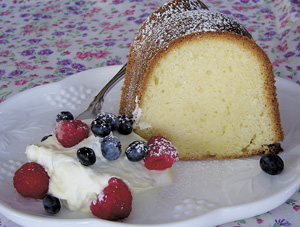 1 cup (2 sticks) butter, room temperature, divided
6 ounces premium-quality white chocolate, chopped
2-1/4 cups sugar
6 large eggs, room temperature
3 cups all-purpose flour
1/4 teaspoon baking soda
1/2 teaspoon salt
1 cup sour cream, room temperature
1/4 cup amaretto
1/4 cup apricot brandy
1 teaspoon vanilla
Preheat oven to 350°F. Thoroughly grease a 12-cup Bundt pan with solid shortening. Dust the pan with flour and set aside.
Melt white chocolate with 1/4 cup (1/2 stick) of the butter in a small heavy saucepan over low heat, stirring frequently until mixture is completely smooth. Set aside to cool. Sift flour, baking soda and salt together and set aside. Measure amaretto, apricot brandy and vanilla into a 1-cup glass measure.
In a large mixing bowl, beat remaining 3/4 cup (1-1/2 sticks) of butter at medium speed of an electric mixer until light. Gradually add sugar and continue to beat for 8 to 10 minutes. This is not a problem with a stand mixer, but if you're using a hand-held electric mixer, try to give it a good 5 minutes. Add the cooled melted white chocolate mixture and beat until it has blended into the creamed sugar and butter. The mixture should be light in color and texture.
Scrape down the bowl. Add eggs, one at a time, beating well after each addition. Add sifted flour mixture alternately with sour cream and liquid ingredients, beginning and ending with flour mixture. Use a low speed to gently mix the ingredients into the batter. Once the last of the flour mixture has disappeared into the batter, the mixing is over.
Turn the batter into the prepared Bundt pan, spreading evenly. Bake in preheated 350-degree oven for about 1 hour and 10 minutes, until a thin knife poked deep into the center of the cake comes out clean.
Transfer the pan to a cooling rack and let rest for 15 minutes. Turn the cake out onto a platter. Allow to cool completely before covering tightly to store.
Tips from the cook
--If you prefer to bake without alcoholic flavorings, replace the amaretto and apricot brandy with 1/2 teaspoon pure almond extract and 1/2 cup apricot nectar.
--Technically, white chocolate is not really chocolate because it doesn't contain chocolate liquor. The finest white chocolate contains cocoa butter, sugar, milk solids and vanilla. Less expensive white confectionary products will contain no cocoa butter and will have noticeably inferior texture and flavor.

Sue Doeden