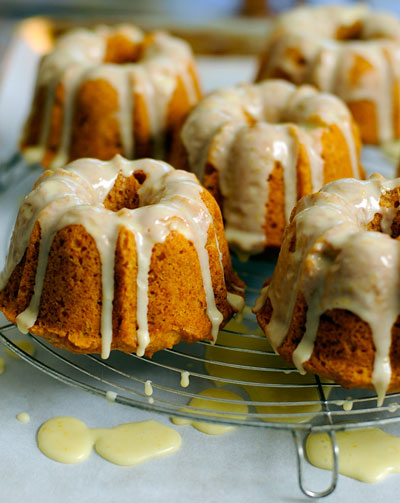 Yield: 1 10″ bundt or 6-8 small bundts
Ingredients:
for the pound cake:
1 cup(8 oz.) organic, unsalted butter
2 cups organic, pure cane sugar
4 large, organic eggs
1 teaspoon pure vanilla extract
zest of one orange
3 cups whole wheat pastry flour
2 teaspoons baking powder
1 teaspoon ground cinnamon
1/2 teaspoon baking soda
1/4 teaspoon salt
1/4 teaspoon ground nutmeg
2 cups cold, mashed sweet potatoes
For the glaze:
2 cups confectioners' sugar
zest of one orange
3-5 teaspoons fresh orange juice
Instructions:
Preheat oven to 350°F
Butter and flour 6 individual bundt pans and 2 small loaf pans.
In the bowl of a standing mixer, cream the butter. Add the sugar and beat until light and fluffy.
Add the eggs, one at a time. beat in vanilla.
In a small bowl, mix the flour, baking powder, cinnamon, baking soda, salt, and nutmeg. Whisk to combine. Add to the wet ingredients. Don't over mix.
Add the sweet potatoes and mix until well combined and you don't see any white streaks.
Pour batter, evenly into prepared pans. Bake for 35-45 minutes or until a toothpick inserted in the center comes out clean. Cool for 10 minutes.
Flip cakes over onto a wire rack and cool completely. Once cooled, glaze.
To make the glaze, grate the orange zest directly into the sugar and mix with a whisk. Add the orange juice, one tablespoon at a time, until you get the consistency you desire.
Drizzle over the cake and let set.
- Recipe courtesy of Susan Salzman and her blog The Urban Baker.