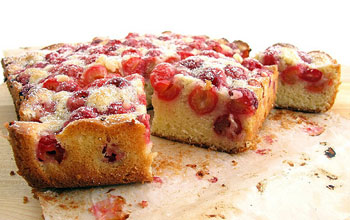 1 cup all purpose flour, plus 2 tablespoons
1 teaspoon baking powder
1 teaspoon salt
3 large eggs separated
3/4 cup granulated sugar, plus 2 tablespoons
3/4 cup (1-1/2 sticks) unsalted butter, room temperature
1 teaspoon pure vanilla extract
2 cups stemmed and pitted sour cherries
confectioners sugar, for dusting
Preheat oven to 350 degrees F. Butter a 9-by-9-by-2-inch baking pan, line with parchment paper, and butter again. Sift together dry ingredients: 1 cup flour, baking powder, and salt.
In the bowl of a stand mixer fitted with the whisk attachment, whip egg whites with 2 tablespoons sugar until stiff peaks form. Remove to a bowl.
Wipe out mixer and fit with the paddle attachment. Cream butter with 3/4 cup sugar until light and fluffy. Add vanilla and egg yolks and mix until combined. Add flour, a little at a time, until incorporated. Fold in egg whites in three additions until no streaks are visible. Pour batter into prepared pan, smoothing top.
Toss sour cherries with 2 tablespoons flour and scatter over batter, pressing a few down into the batter. Bake until golden brown, about 30 to 40 minutes or until a skewer inserted into the center comes out clean. Cool in pan for about 15 minutes. Remove to wire rack to cool completely. Slice into squares and serve dusted with confectioners sugar. Yield: 9 squares.
- Recipe courtesy of Joseph Erdos