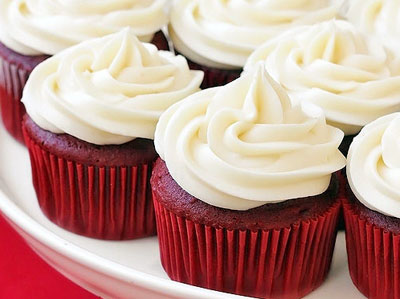 Makes 24 cupcakes
Red Velvet Cupcakes:
2 1/2 cups cake flour, sifted
2-4 tablespoons unsweetened Dutch-process cocoa powder
1 teaspoon salt
1 1/2 cups sugar
1 1/2 cups canola oil
2 large eggs, room temperature
2 tablespoons red food color or 1/2 teaspoon red gel-paste food color
2 teaspoons pure vanilla extract
1 cup buttermilk
1 1/2 teaspoons baking soda
2 teaspoons distilled white vinegar
1. Preheat oven to 350 degrees. Line standard muffin tins with paper liners and spray papers lightly with non stick cooking spray.
2. Whisk together cake flour, cocoa, and salt in a small bowl and set aside.
3. With an electric mixer on medium-high speed, beat together sugar and oil until combined. Add eggs, one at a time, beating until each is incorporated, scraping down sides of bowl as needed. Mix in food color and vanilla.
4. Reduce speed to low. Add flour mixture in three batches, alternating with two additions of buttermilk, and whisking well after each. Stir together the baking soda and vinegar in a small bowl (it will foam); add mixture to the batter, and mix on medium speed 10 seconds.
5. Divide batter evenly among lined cups, filling each three-quarters full. Bake, rotating tins halfway through, until a cake tester inserted in centers comes out clean, about 20 minutes. Transfer tins to wire racks to cool completely before removing cupcakes. Cupcakes can be stored overnight at room temperature, or frozen up to 2 months, in airtight containers. Frost with Vanilla Buttercream.
Easy Vanilla Buttercream
3 tablespoons heavy cream
1 1/2 teaspoons vanilla extract
Pinch table salt
3 sticks unsalted butter, softened
3 cups confectioners' sugar
1. Stir the cream, vanilla, and salt together in a small bowl until the salt dissolves.
2. In the bowl of a stand mixer with whisk attachment, beat the butter on medium-high speed until smooth, 30 to 60 seconds. Reduce the speed to medium-low, slowly add the confectioners' sugar, and beat until smooth, 2 to 5 minutes.
3. Beat in the cream mixture. Increase the speed to medium-high and beat until the mixture is light and fluffy, 4 to 5 minutes.(If using a hand held mixer, beat for 8-10 minutes).
4. To finish, using a large star tipped pastry bag, pipe frosting on to cupcakes; otherwise, use a small offset spatula to spread cupcakes with frosting. Refrigerate up to 3 days in airtight containers; bring to room temperature before serving.
- Recipe coutesy of James Moore