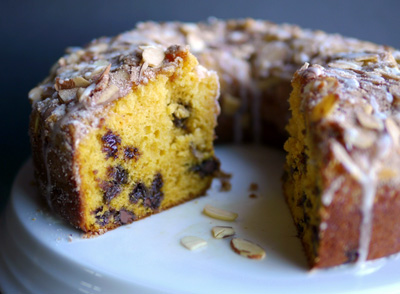 Recipe Created by Cathy Pollak for NoblePig.com | Serves: 12
Ingredients:
2 cups (9 ounces) all-purpose flour
1 teaspoon baking powder
1/2 teaspoon baking soda
1/4 teaspoon salt
1/2 cup pumpkin puree
1 (8 ounce) package cream cheese, room temp (should not be cold)
1 cup granulated sugar
1/4 cup light brown sugar
1 teaspoon pure vanilla extract
2 large eggs, room temp
1/ 4 cup whole milk, (let sit out while putting together ingredients so not so cold)
1 cup semisweet chocolate chips
1/2 cup slivered almonds
1/4 cup granulated sugar
1 teaspoon pumpkin pie spice
1/3 cup confectioners' sugar
1 teaspoon milk
Directions:
Preheat oven to 350 degrees F. Grease and flour baking pan well. (See bottom of recipe for notes on pan size.)
Combine flour (you will have better results if you weigh it), baking powder, baking soda and salt. Set aside.
In the bowl of a stand mixer, beat pumpkin puree and cream cheese until fully combined, light and airy; about 3 minutes (cream cheese should not be cold). Add sugars and vanilla and continue beating until combined. Add eggs one at a time and blend in completely before adding the second egg. Turn mixer on lowest setting and add half of the flour, then milk, then the rest of the flour. Blend until just combined, do not overmix. Stir in chocolate chips. Pour batter into prepared pan.
In a small bowl mix together almonds, 1/4 cup granulated sugar and pumpkin pie spice; sprinkle over batter. (If you are using less than a 10" diameter pan, you might want to cut the sugar here by a Tablespoon or two since your surface area on top will be smaller.)
Bake in a preheated oven until a toothpick inserted in the center returns clean. Baking time is going to depend greatly on your pan choice and oven. The larger the diameter of the pan, the lesser the cooking time. 10" diameter about 35-40 minutes. 9" diameter about 50-55, but always check early to gauge. Don't overbake!
Let cake sit in pan for 30 minutes on a wire cooling rack before removing. If you use a pan, where the cake will be turned out, you will lose some of the sugary-almond topping on top. Turn out on a board and just sprinkle lost topping back on top when you flip it back over, not a big deal.
Let cake cool completely. In a small bowl, mix together confectioners' sugar and 1 teaspoon milk for the glaze. Drizzle over cake (this does not make a lot, but just enough to give a bit of a glazed look and taste).
Notes: Make sure your pan is greased and floured well. Chocolate chips can often stick to the bottom of a pan so make sure you have covered every edge well. I used my favorite 10" round baking pan for this recipe. I love a hole in the middle of my coffee cake. You do have to flip the cake out, but it works well. I also think a 10 cup bundt pan, angel food cake pan and 9" or 10" springform pan would work well. Since cooking times will vary with pan size, start checking with a toothpick at 35 minutes and gauge doneness.
- Recipe courtesy of Cathy Pollack and her blog noblepig.com.