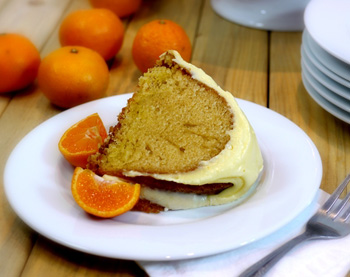 Adapted from Cooking Light | Serves: Serves 10-12
Ingredients:
For the cake:
cooking spray
2 Tablespoons all-purpose flour
2-1/2 cups granulated sugar
1-1/2 cups whole milk
1/2 cup extra virgin olive oil
3 Tablespoons tangerine juice
3 large eggs
2-1/4 cups all-purpose flour
1 teaspoon baking powder
1 teaspoon salt
1/2 teaspoon baking soda
For the glaze:
2 cups confectioners' sugar
2 Tablespoons butter, melted
2 Tablespoons tangerine juice
Directions
Preheat oven to 350 degrees F. Coat a 10-cup Bundt pan with cooking spray; dust with 2 Tablespoons all-purpose flour. Get rid of any excess flour in the pan. Set aside.
Combine granulated sugar, milk, oil, juice and eggs in a large bowl. Whisk until all is incorporated.
Spoon 2-1/4 cups flour into dry measuring cups; level with a knife. Combine flour, baking powder, salt and baking soda; stir well with a whisk. Add flour mixture to oil mixture , stirring with a whisk until smooth. Pour batter into prepared pan. Bake for 55 minutes or until golden brown and cake begins to pull away from sides of pan. Cool completely on wire rack before inverting onto a plate.
For the glaze, combine sugar, juice and butter, stirring well. Add more juice if too thick. Pour over cooled cake.
- Recipe courtesy of noblepig.com.