Adapted from FOODday - The Oregonian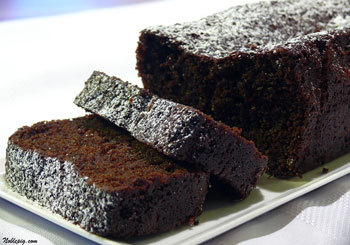 1 cup Guinness stout
1 cup molasses
1/2 Tablespoon baking soda
3 eggs
1/2 cup granulated sugar
1/2 cup firmly packed dark brown sugar (do not substitute light brown)
3/4 cup vegetable oil
2 cups all-purpose flour
2 Tablespoons ground ginger
1-1/2 teaspoons baking powder
3/4 teaspoon ground cinnamon
1/4 ground cloves
1/4 teaspoon freshly grated nutmeg (I used ground)
1/8 teaspoon ground cardamom
1 Tablespoon peeled and grated fresh ginger
Sprinkle with confectioner's sugar, optional
Serve with a dollop of whipped cream, optional

Butter a 9 x 5 loaf pan, line the bottom and sides with parchment and grease the parchment with butter as well. Or butter and flour a 6-cup Bundt pan.

In a large saucepan over high heat, combine the stout and molasses and bring to a boil. Turn off the heat and add the baking soda. Allow to sit until the foam dissipates; this takes about 10 minutes.

In a bowl, whisk together eggs and both sugars. Whisk in the oil.

In another bowl, combine flour, ground ginger, baking powder, cinnamon, cloves, nutmeg and cardamom.

Combine the stout mixture with the egg mixture, then whisk this liquid into the flour mixture, half at a time. Add the fresh ginger and stir to combine.

Pour the batter into the loaf pan and bake for 1 hour in a 350 degree oven, or until the top springs back when gently pressed. Do not open the oven until the gingerbread is almost done, or the center may fall slightly. Transfer to a wire rack to cool.

Cooking Notes: In order for the batter to fit into your loaf pan, you must be using a 9 x 5 pan. Even though my loaf pan is stamped with that size on the bottom, all of the batter did not fit. I immediately contacted Danielle Centoni, a food writer for The Oregonian. She suggested my loaf pan may not be a true 9 x 5 and she was right. When measured from the inside, my pan was 8.25 x 4.5, therefore, the batter did not completely fit. The moral of the story, measure your pans from the inside walls to get the true measurements. I ended up using two of 8 x 4 pans and divided the batter evenly, reducing the cooking time to 45 minutes. It worked out well but I really wanted that larger, one loaf.

To Give: Wrap loaf or cake in parchment and tie with a ribbon, or wrap again in fabric, a tea towel or colorful tissue before adding ribbon.

To Keep: Cover cake with plastic wrap and keep at room temperature for up to three days or refrigerate up to a week. Or wrap well in plastic wrap, place in a zip-top freezer bag and freeze for 2 to 3 months.
- Recipe courtesy of Cathy Pollak