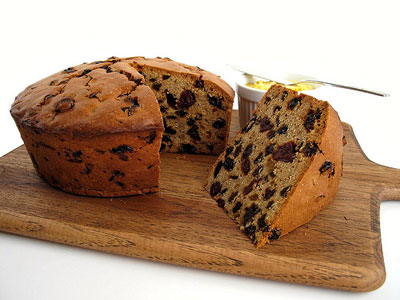 Recipe adapted from Irish Traditional Cooking by Darina Allen.
3-1/2 cups all-purpose flour
1 teaspoon baking powder
1/4 teaspoon salt
1/2 teaspoon ground nutmeg
1/2 teaspoon ground cinnamon
1 cup packed brown sugar
1 cup (2 sticks) unsalted butter, room temperature
1 cup golden raisins
1 cup raisins
1 cup dried cherries
1 cup chopped prunes
1 tablespoon grated orange zest (about 1 orange)
1-1/4 cups Guinness
2 large eggs, beaten
Orange-Whiskey Butter, for serving (recipe follows)
Preheat oven to 350 degrees F. Butter an 8-by-3-inch round cake pan, line with parchment, and butter again.
Sift together flour, baking powder, salt, nutmeg, and cinnamon over a large bowl. Crumble in brown sugar and mix well. Rub in butter until crumbly. Mix in the dried fruit.
Mix together the Guinness and beaten eggs. Make a well in the dry ingredients and pour in the wet mixture. Mix until well combined. Turn batter out into the parchment-lined pan, smoothing top. Bake for about 2-1/2 hours. A skewer inserted into the center should come out clean. Cool in the pan for about 25 minutes and turn out onto a cooling rack to cool completely. Serve with orange-whiskey butter. Store wrapped tightly in plastic wrap. Yield: 16 slices.
Orange-Whiskey Butter
1/2 cup (1 stick) unsalted butter, room temperature
1/4 cup confectioners sugar
1 tablespoon grated orange zest (about 1 orange)
2 tablespoons Irish whiskey
Whip together butter and sugar, orange zest, and whiskey until smooth. Yield: 1/2 cup.
Joseph Erdos is a New York–based writer and editor, but above all a gastronomer and oenophile. He shares his passion for food on his blog, Gastronomer's Guide , which features unique recipes and restaurant reviews among many other musings on the all-encompassing topic of food.