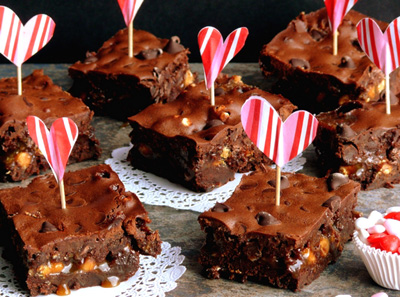 Recipe from: Created by Cathy Pollak | Serves: Makes 9 large brownies or 16 small ones
Ingredients
3/4 cup all-purpose flour
3/4 cup unsweetened cocoa
1/4 teaspoon salt
1/2 cup butter, softened
1/2 cup granulated sugar
1/2 cup packed light brown sugar
3 large eggs, divided
2 teaspoons vanilla extract
3/4 cup butterscotch chips
1 cup (1.5 ounces) mini marshmallows (the real tiny ones)
1/2 cup caramel ice cream topping
3/4 cup chocolate chips
Directions
Preheat oven to 350 degrees F. Grease an 8-inch square baking pan.
Combine flour, cocoa and salt in a bowl. Cream butter and sugars together until light and fluffy, about 5 minutes. Add two of the eggs and the vanilla. Beat until well combined.
Gradually add in flour mixture. Remove 3/4 cup of the batter and set aside. Spread remaining batter into baking pan. Sprinkle butterscotch chips and mini marshmallows over batter. Pour caramel over top.
Beat remaining egg leftover batter until fully combined. Stir in chocolate chips. Spread over caramel evenly.
Bake for 35 minutes until center is set on top. Cool completely before cutting into squares.
- Recipe courtesy of Cathy Pollak