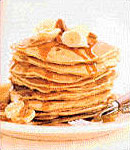 Once upon a time, when my future husband and I had just started dating, he called me one Saturday morning to see what I was up to. I was in the car with my friend Phoebe and a trunk full of laundry.

"We're going to Michael Green's for breakfast," I said. I had him on my Reagan-era car phone, which had a curly cord and a speakerphone, which may as well have been a tin can attached to a length of string.

Peter thought about this for a moment. "Is that a restaurant or a person's house?" he asked.

Phoebe and I had a good long laugh at that. Because it was a good question: was Michael Green's a restaurant or someone's house? In a way, it was both. It was also an arcade and a launderette and a home theater and there was also a hot tub, in case you were in that sort of mood.

Michael Green is my first husband whom I never married, and those of you who have first husbands you never married will understand what I mean by that. To clarify, in every woman's life there is a man that we probably would have married in a parallel universe, but in this universe we were smart enough to know it would never work out, and that our inevitable divorce would probably ruin a perfectly nice friendship, so we just skipped the intermediary steps and we are all happier for it.

Anyway, back in 2001, Michael was living in a bungalow in Santa Monica, where he was making an effort to buy back his childhood from eBay in the form of action figures of all kinds and original art from his favorite comic strips. He also cooked – constantly, somewhat obsessively, and in great quantities that spoke of his generosity of spirit and a certain adolescent abandon that would surely have been one of the reasons we got divorced.

His motto, coined by his Israeli mother, was "why choose? Have both!" This could get dangerous in a deli, where choosing is the whole point. Only with Michael could we spend a hundred and ten dollars on lunch at Factor's, and only because he ordered the sable platter and some soup and a side of sweet potato fries and a fountain soda and then maybe a pancake for the table and possibly some pudding for dessert, and then on the way out he would usually want to stop by the deli counter for a little nosh to take home for later, so we would get black and white cookies and maybe a little thing of egg salad and also a knish, and that is how you spend one hundred and ten dollars at Factor's.

At his house, where Phoebe and I often decamped for weekend breakfasts and free laundry, the meal – which could last for hours – was equally elaborate.

First there was Dunkin Donuts coffee, shipped monthly to Michael from Westchester by his doting mother. We drank this with an enormous quantity of milk and sugar, because why choose? Have both!

Then there were cheezy eggs (the z was necessary because the cheese involved was not so much cheese as processed cheese food in the form of kosher American slices which I would bring for Michael from my local Israeli market). Finally, there was a pancake course. And this is when the Messiah pancake would arrive to protect all the other pancakes.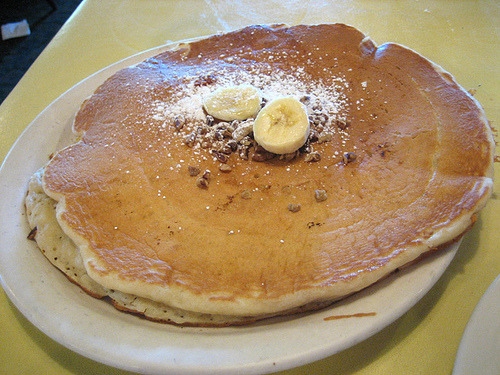 The Messiah pancake was the first pancake Michael made. It was a giant, Wilt Chamberlain-sized pancake, big enough to fill the entire skillet. It was not to be eaten until after it served its purpose as a sort of pancake blanket to protect and keep warm all the many subsequent pancakes that the batch would yield. New pancakes were slipped under the Messiah pancake to await their compatriots, so Phoebe and I were each given a piping hot stack (pancakes, to me, are all about height) rather than having to gobble them up one at a time as they came off the griddle. What's more satisfying than cutting through a stack of five piping hot pancakes with butter tucked between each one and syrup spilling over the sides? Nothing, that's what.

It was an inspired notion. We begged him to copyright the Messiah pancake, or get a patent or something, and he'd say what a great idea that was, and we'd all feel terribly motivated for about three seconds until we decided to watch just a little bit of whatever obscure British sci-fi he had on his TiVo, and next thing we knew it was 5pm and time for a little nosh, so Michael would make us English muffins with melted cheezy slices and we would finish folding our laundry and go home and collapse.

In the parallel universe where Michael and I are long divorced, I might not look back so fondly on these melted cheezy moments. Thank heavens I never married him – now I can still find it adorable when my husband and I are headed to his house for a dinner party and I call to ask him if we can bring anything and he says no and I ask what's for dinner and he says "cous cous," and I ask him how much he made and he peeks into the pot and says, "um…about a million."


Cheezy Eggs

This recipe calls for at least two kinds of cheese: cheddar and/or jack, and American slices. Do not skip the American slices – though they're downmarket, they melt well and are crucial to the cheeziness.

Beat as many eggs as you want and add a bit of water or milk.

Melt a generous quantity of butter in a pan. Pour in the beaten eggs and add some cheese just as you get the curds going, so it melts in and becomes indistinguishable from the eggs. Continue to scramble over low heat.

Cook the eggs for as long as you like to cook eggs. Just before the eggs are done, add more cheese, so you get what Michael calls "melty gooey strands." You can either mix it in or melt it on top of your scramble, but I recommend mixing it in for maximum melty gooey.

Serve with salt and pepper and coffee from Dunkin Donuts, which you can buy online if you do not have a mother in Westchester: https://www.dunkindonuts.com/


Messiah Pancake

Since pretty much anyone can usually rustle up some Bisquick and milk, and since no one ever remembers to buy buttermilk, one of Michael's trusty tricks is to add a bit of lemon juice to regular milk and let it sit for a few minutes until it curdles slightly.

Follow the recipe directions on the Bisquick box.

Melt a generous quantity of butter into a pan or your griddle.

Pour one HUGE pancake. This will be the Messiah. You will need a large spatula (borrow the one you use on your barbecue) to flip it over. Use this enormous pancake to protect all the other pancakes.

When the Messiah pancake has served its purpose, it can be re-heated in the toaster and eaten with jelly or, if you're lucky enough to have some, Nutella.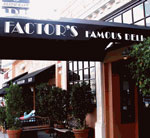 Factors Deli
"Your home away from home"
9240 West Pico Blvd., at Rexford Drive
Los Angeles 90035
(310)278-9175


Anything you could possibly want. We love the stuffed tomato, the black and white cookies, the sable platter, the sweet potato fries, and the service.
Emily Fox writes both feature films and television when she is not whipping up the same three recipes over and over again (chili, coq au vin, and Tollhouse chocolate chip cookies). She lives in Los Angeles with her husband.