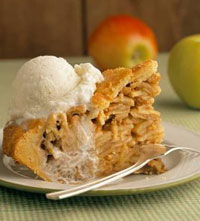 My Dad used to eat chocolate doughnuts for breakfast until he met my Mom who thought that eating chocolate doughnuts for breakfast was up there with, say, cold pizza.
As a result I can't imagine eating chocolate doughnuts, at all.  I think breakfast should be confined to breakfast food (or if you're on a diet, something to skip.)  But someone sent us an apple pie last week that I can imagine having for breakfast (and lunch and dinner).

It's an amazing apple pie. It comes in the mail, It bakes in the oven in a brown paper bag (I don't know what the paper bag has to do with anything but it's true).  And it's full of apples that are still crunchy and tart and sweet and ambrosia-like.  It has hints of lemon and bites of sweet, a perfect crust and something sort of crumbly.

It's called the Heritage Apple pie and it's won a lot of awards and it's made by hand and shipped to you from their small bakery in Texas (of all places).  And I ate three pieces in two days (and I don't even eat sweets) and I wish we had one in our kitchen right now.