The following is an excerpt from "Siren's Feast: An Edible Odyssey" by Nancy Mehagian, a culinary memoir that captures a colorful era and features over 40 traditional Armenian and vegetarian recipes.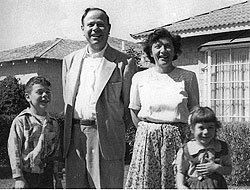 When I was growing up nobody talked about dysfunctional families, so it took me a while to realize how fortunate I was to have the parents I had. They never argued in front of us and truly seemed to enjoy life and each other. My brother and I were rarely left behind on trips, including seeing the Folies Bergères when it first came to Las Vegas. I have to admit my childhood was somewhat idyllic. Perhaps too idyllic.
Phoenix, for the most part, was a segregated, Republican, white-bread environment to grow up in. With much denial of ethnicity, everyone wanted to blend into the American landscape. There was not one black student at any of my schools and, though Arizona had many Indian reservations, all the Indian students were sent to their own school. I felt a mixture of pride and shame about being different and was sometimes embarrassed by relatives with big noses or large rear ends, funny ways of speaking and old country morality.
My friends however, loved coming to my house precisely because it was so different. We had two well-stocked refrigerators and my mother was usually cooking something. Whenever she baked Keta, a delectable Armenian sweet roll, my girlfriends would be drooling over the smells of the rich yeasted dough, cinnamon and sugar coming from the oven, and dozens of these rolls would disappear in a matter of hours. To this day, they are my favorite binge food and I will often tell my mother not to bring me any because I can't control myself with Keta.
KETA
(Armenian Sweet Breakfast Rolls)

This recipe is long and involved, but it gets easier every time you do it. The results are addicting. Even friends who do not normally eat sweets cannot resist Keta.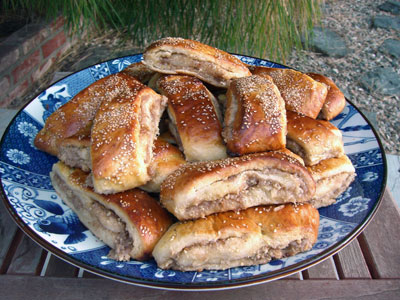 5 cups unbleached flour
3/4 cup sugar
1/2 teaspoon salt
3/4 cups butter
3/4 cup milk (Mom uses evaporated)
3 eggs
1½ packages active dry yeast (1½ tbsp.)
1 tablespoon sesame seeds

Filling:

3/4 cup butter
1/2 cup flour
3/4 cup sugar
1/2 tablespoon cinnamon
3/4 cup walnuts, finely chopped or processed

To make dough:

Begin by dissolving yeast in 1/3 cup warm water; add 1 1/2 tsp. of sugar,
stir well and let stand until it bubbles up. Set aside.

Blend the flour, sugar and salt in a very large mixing bowl and set aside for
the moment. Melt the butter in a saucepan, add the milk and cool to lukewarm,
then stir in 2 beaten eggs. Next stir the yeast mixture into the butter, milk and
egg mixture.

Pour the liquid mixture into the flour mixture and begin mixing with a spoon. When well-blended, begin kneading the dough with your hands, adding a little more flour if it is too sticky. Knead the dough for approximately 6 minutes. The dough should be soft. (To facilitate kneading, rub a little oil on your hands.)

Place the dough in a lightly-oiled bowl (you can use the mixing bowl), cover with a towel and put in a warm place (85-90 degrees) to rise until the dough is light and doubled in size (about 2-3 hours.)

While dough is rising, prepare the filling. Melt the butter in a saucepan, add flour and stir until blended. Next add the sugar, cinnamon and walnuts. Mix well and set aside until dough is ready to form.

When the dough has risen, punch down. Divide the dough into 5 equal parts and form into balls. Roll out each ball with a rolling pin (It is not necessary to flour the board) until each piece is the size of a dinner plate (about 10 in. in diameter and about 1/4 in. thick).

Divide the filling into 5 portions. Put one portion of the filling on each round of the dough and cover the surface by pressing the filling into the dough with your fingers. Next fold the sides of the dough towards the middle, like a jelly roll, pinching it closed. Take rolling pin and flatten until dough is shaped long and narrow, about 14" by 3".

Now beat the remaining egg and stir in the sesame seeds. Using a pastry brush, brush the top of the dough with this mixture. With a fork, flatten and prick the top of the dough, then slice the roll diagonally into 1 in. wide slices and place them on an oiled baking sheet, about 1 1/2 " apart. Prepare remaining balls of dough and filling in the same manner.

Place rolls in a warm place to rise again (45 min. to 1 hr.), then bake them in a preheated 375 degree oven for 15 - 18 minutes, until golden brown.

When cool, store the Keta in an airtight plastic bag or cookie jar. They stay moist for days and freeze well for later use.
Nancy Mehagian is the author of the culinary memoir, Siren's Feast, An Edible Odyssey