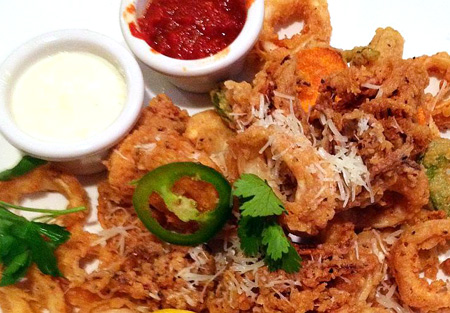 Sometimes you just need a big restaurant in the middle of the city to warm you up on girls night out. We're at McCormick & Schmick's in the Park Plaza Hotel in Back Bay. Everyone is glad to see us and it's bright and cheery. If you're upstairs in the hotel, what could be easier? It's Friday and we suspect it gets frantic when there's a convention but this is not one of those nights. How happy are we that we crossed the street? Just ask me.
It's six o'clock, and their happy hour bar menu is ranked #1 by USA Today. Get it from 4-6:30 and it picks up again at 9 pm. (Saturdays it begins at 10 pm only). Janet's ordering and she's got her eye on ahi yellowfin tuna. It's puddled in pepper sauce they went to Mongolia for and if it doesn't take you out, there's no shortage of jalapeño. It's smoky suited in black and white sesame seeds and pepper, lots and lots of pepper. This dish lays to rest, once and for all, my/your happy hour stereotypes whatever they are. The tuna stands on its own. We will concede, because we're big fans of hot, that the sauce is good though I feel bad the star fish is wearing a mask. What a question, of course we want another Pinot Noir Mirasson.
More surprises in a nautically themed, whimsical tiled bar with unthumpy tunes: calamari with tomato sauce where roasting is the secret. This fritto misto's big enough for dinner but we're sharing the cheese, parsley, artichoke, sweet potato, eggplant, jalapeño, tomato sauce and aioli. It's as crisp as you hope it will be, sans peanuts and garlic, thank you.
Everything went into the oil and it works, even for purists. But it's the aioli we're still talking about, a lemon stunner Janet says is like lemon meringue without the sugar. (I tried it at home: adding lemon juice to Hellman's and it's nowhere as good as theirs. Extra lemon makes mayo more fun and it's a keeper for things like spinach and broccoli.) You'll find more appetizers: sliders, mussels, burgers, quesadillas and shrimp with firecrackers and not unreasonably, they want you to have a drink. Yes, mellow Mondavi Fumé Blanc will be fine.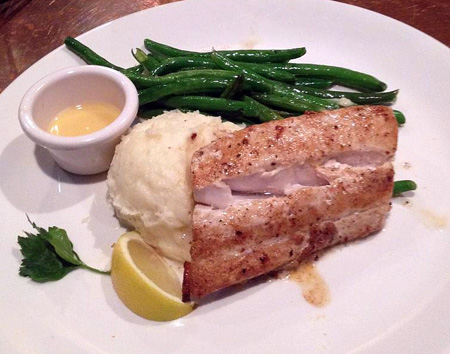 Polite eaters may decide a couple of appetizers are enough and while it's true, it would be sad to miss the main events. Our server more than makes up for the slow kitchen even as she politely declines my offer to help the chef. Janet and I are splitting mahi-mahi, and they don't mind. Ahi is for sushi. Mahi-mahi, similar but not matching, is also referred to as dorado or common dolphin fish and is related to pompano, not the mammal. It's plated with crunchy green beans and mashed potatoes and we need potatoes to chill out the peppers. The kitchen serves us on two plates so we don't have to and it is more than enough. They also have cod, shark, trout, swordfish and salmon your way. We take ours plain but you can top yours with crab, shrimp scampi, relish, Oscar and firecracker sauce. What they call their "signature" fish plates can be dooded with cashews, Parmesan, almonds, bread crumbs, casino and blackening. It's good they list the ingredients so I can tiptoe away from relish.
Between the wine and our new friends at the next table, tunes and the Friday vibe, we are swept up and congratulate ourselves on a great find. We know predictability is good and surprises, the good kind, are better. Boston is a town of independents whom we support, and on occasion we find ourselves drawn to outposts of national establishments that know what they're doing. Some months ago Vince was working in Providence and I was tasked with finding a place to eat. Not easy as I know nothing about Providence. I picked a chain because I knew it would be reliably good. So there.
Take note of a changing menu that includes pasta, steak, mixed grills and sides like lobster mashed potatoes for $11. (I am wondering why anyone would do anything to lobster but steam it and bring it to me right away.) For dessert: walnut apple pie, cheesecake, chocolate mousse, banana bread pudding and crème brûlée are on tap. There's something called a chocolate bag (it's got mousse, berries and cream) and surely someone could come up with a more creative name for a $13 dessert? Maybe le chocolat box? Or merci pour le chocolat, which is a French film, and doesn't that sound classy? Either way, there are many things to keep the chocolate company, like a slew of single malts, bourbons, Ports and Cognacs all of which are a good deal older than you.
I tell myself McCormick and Schmick must be real and it turns out they are real guys. So there it is. You don't have to limit yourselves to a happy hour: make it a happy meal.
McCormick & Schmick's
34 Columbus Avenue (Park Plaza Hotel)
Boston, MA 02116
617. 482. 3999
© Photos by Janet Vohs. Kitty Kaufman is a writer in Boston. See more of their adventures at Corporate Edge and on Twitter.