Prep: 1-2 days
1-2 racks of lamb.
1-2 bottles of red wine, Syrah works best (could be <$5 wine)
about 1/2 gallon milk
large airtight container with lid, or plastic wrap
Lawry's seasoned salt
Rosemary
Cracked pepper
Lawry's Garlic salt
Morning: Put rack of lamb(s) in a large container and cover entire rack(s) with milk. Cover and make airtight and put in the refrigerator (about 8 hours). This takes away the gamey taste to the lamb.
Evening: remove lamb from containers, and wash thoroughly removing pockets of milk residue. Once clean, put back into clean container and fill with red wine until lamb is completely covered. Cover and make airtight and put back into the fridge overnight (about 6-8 hours).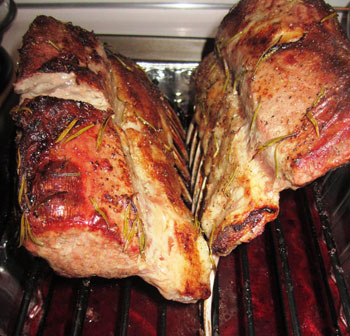 Next morning: remove lamb from container and wash thoroughly removing pockets of wine. Once clean, apply dry seasonings to taste: Lawry's seasoned salt, Lawry's Garlic Salt, and pepper. Remove the rosemary from its stem and put a good amount of the leaves on the lamb. Once the lamb is fully seasoned, put it back in a clean container and cover. Set in fridge for the day (about 8 hours) until ready to roast in the evening. Remove from fridge about 1-2 hours BEFORE cooking.
I recommend using a large roaster that has a "V" style rack so that the rack of lamb can "stand" on the rack with meaty part upwards and bones down to the flat surface. Cover the pan with about 1/2 inch of red wine, then insert V rack and stand the rack of lamb in the rack.
Place in preheated oven at 400 degrees and cook for about 15 minutes (ovens vary) for medium. Check the pan to make sure the wine doesn't dry out mid roasting. Remove pan from oven and let the lamb rest for about 10 minutes.
You're welcome to end the cooking process at this point; however, if your family's tastes are as varied as mine, you'll want to continue with a few more steps!
Do not discard the wine from the pan. Put the wine from the rack in a flat frying pan at medium heat; cover the bottom of the pan to about 1/4 inch. You want enough to cover the surface of the pan and reduce the wine. Slice the rack of lamb and depending on how 'well' guests prefer their rack of lamb, place lamb chop on the reduced wine (bubbling) on the frying pan and cook for more time. This allows for more cooking, and will allow for the intense flavors in the wine to add to the lamb chops. Use tongs for best control when flipping lamb chops over.
If there is left over wine, you can use it as 'gravy' for the lamb.
I normally serve this with mashed potatoes and another green vegetable.
- Recipe courtesy of Maylynn Morales