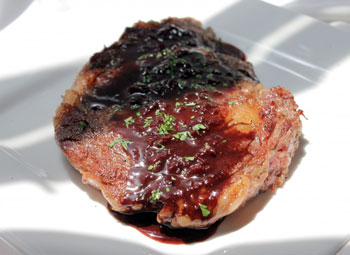 Serves 2
Ingredients:
2 Boneless Rib Eye Steaks (or steak of your choosing)
Salt and Pepper to taste
1 tabelspoon olive oil, plus more for rubbing
1 shallot, chopped
1/2 teaspoon brown sugar
1/2 cup red wine
1/2 cup chicken stock or beef stock or demiglace
2 tablespoons unsalted butter
Rub the steaks with salt, pepper, and olive oil.
Heat a large saute pan on high heat until droplets of water dance quickly off the surface when splashed.
Swirl a tablespoon of oil in the pan, making sure the pan is coated. Place steaks in hot pan and cook 2-3 minutes (this will depend on how thick the cuts of meat are and how rare you prefer them to be cooked). You can always put them back on the heat, so I play it safe.
Put steaks on a plate but keep heat on the pan. Toss the shallots into the pan, scraping up the pan drippings. Add brown sugar and caramelize shallots for 1-2 minutes, making sure they do not burn.
Add wine and reduce (simmer to reduce amount of sauce) for 2-3 minutes or until sauce has reduced by 2/3. Add stock and continue to simmer.
When a sauce-like consistency has been achieved, turn the burner off and swirl in the butter. Stir until butter has melted and sauce has been thickened.
Pour over steaks. Serve immediately.
- Recipe courtesy of Alison Wonderland Tucker