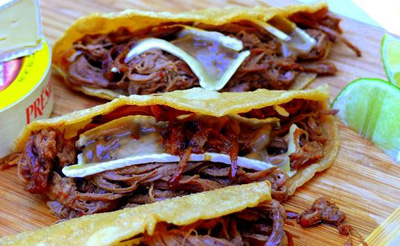 Recipe created by Noble Pig | Serves: Makes 18 tacos
Ingredients
1 (4-5 pound) beef brisket
salt & pepper
2 (12 oz) cans Dr. Pepper, room temperature
Tajin seasoning or substitute with salt, chile powder and lime
1 small wheel of brie, preferably President brand, sliced thinly
18 corn tortillas, fried
Directions
Season brisket generously with salt and pepper. Place brisket in slow-cooker, fat side of the brisket on top. Pour in Dr. Pepper and set on low for 9.5 hours.
When meat is done, remove from slow-cooker, reserving a 1-1/2 cups of the Dr. Pepper broth in a separate bowl. Slice off fat left on the top of the meat. (This will be very easy to do). Pull meat apart with two forks and place back in the slow-cooker with broth, adding just enough to keep the meat moist. Turn slow-cooker back on high to warm up the meat. Season with tajin seasoning or with salt, chile powder and lots of fresh lime juice to taste. The amounts here are going to be different for everyone. The meat should have a nice fresh, flavorful taste. The tajin works great (link is up in the post, you can get it everywhere) but it is not necessary.
Add generous amounts of thinly sliced brie to each taco shell...on the bottom before you add the meat and then on top of the meat as well. The hot meat will melt the cheese and you will have delciousness.