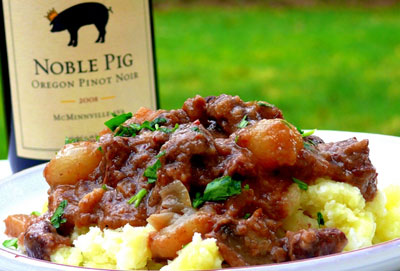 Yields 6 cups

2 lbs. chuck roast, trimmed and cut into 2" cubes
1 bottle (750 ml) Pinot Noir wine
1 yellow onion, diced
1 parsnip, diced
1 rib celery, diced
3 cloves garlic, crushed
2 bay leaves
½ cup all-purpose flour
1 teaspoon kosher salt
½ teaspoon black pepper
¼ teaspoon cayenne
4 strips thick-sliced bacon, diced
2-4 Tablespoons olive oil
1 beef knuckle soup bone
1 Tablespoon tomato paste
¼ cup brandy
6 sprigs fresh thyme
1 teaspoon whole black peppercorns
8 oz. white mushrooms, halved
8 oz. pearl onions, peeled
1 Tablespoon red wine vinegar
¼ cup chopped fresh parsley
1 Tablespoon lemon zest
Salt & Pepper to taste

Combine wine, vegetables, garlic and bay leaves in a large bowl. Place meat in a strainer and submerge in the marinade. Marinate 4 hours but preferably overnight.

Remove meat from marinade and pat dry. Drain vegetables from marinade, reserving both. Combine flour and seasonings in a large resealable plastic bag. Dredge beef in flour mixture.

Saute bacon in a large Dutch oven over med-high heat until crisp. Remove with slotted spoon and drain on a paper-towel lined plate. Brown beef in batches in bacon fat left in pan-do not crowd the pan or meat will not brown well. Remove browned beef before adding more. If the pan becomes dry, add a little olive oil. Remove last batch of meat before continuing. Preheat oven to 225o F.

Sweat reserved vegetables, soup bone and tomato paste in pan, stirring to loosen the browned bits from the bottom. Cook until vegetables soften, 5 minutes. Add brandy; cook until evaporated. Tie thyme and peppercorns in a paper coffee filter; secure with cotton kitchen string. Add herb bundle, reserved marinade, bacon and beef. Cover with a tight-fitting lid, transfer to oven and braise 4 hours.

Stir in mushrooms, pearl onions and vinegar. Return to the oven and cook, covered, until meat is tender, about 2 more hours. Remove herb bundle and soup bone. Skim off the fat.

Finish with parsley, lemon zest, salt and pepper to taste. Serve over mashed potatoes.
- Recipe courtesy of Cathy Pollak