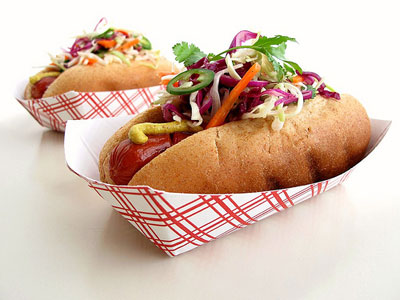 canola oil, for brushing grill
8 all-beef skinless hot dogs
8 whole-wheat hot dog buns
spicy brown mustard
4 cups Spicy Asian Slaw, recipe follows
Heat a gas grill at medium-high to high heat. Once hot, oil the grates using a paper towel moistened with oil.
Cut diagonal slits on hot dogs. Place on grill, periodically turning with tongs until cooked through, about 3 minutes. Toast outside of buns on grill just until marks form.
Place each hot dog in a bun and squeeze a line of mustard on dog. Top with about 1/2 cup slaw. Serve immediately. Yield: Serves 8.
Spicy Asian Slaw
for the dressing:
1/2 cup rice vinegar
2 tablespoons toasted sesame oil
2 tablespoons fish sauce
2 tablespoons honey
2 teaspoons crushed coriander seeds
fine sea salt
freshly ground black pepper
for the slaw:
1/2 green cabbage, shredded
1/4 red cabbage, shredded
1 large carrot, julienned
2 serrano chile peppers, thinly sliced
1 cup cilantro leaves
2 tablespoons sesame seeds
In a small bowl or measuring cup, whisk together rice vinegar, sesame oil, fish sauce, honey, and coriander seeds. Season with salt and pepper.
In a large bowl, toss together green and red cabbage, carrot, chile peppers, and cilantro. Pour dressing over vegetables and toss to coat. Sprinkle sesame seeds on top. Serve immediately. Yield: 8 to 10 servings; about 8 cups.
- Recipe courtesy of Joseph Erdos