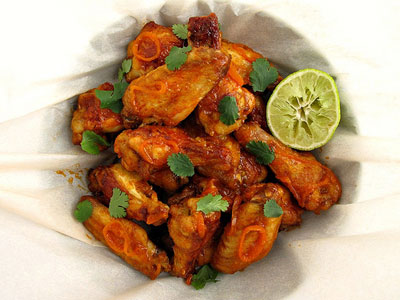 4 pounds chicken wings, separated and tips removed
2 tablespoons sesame oil
1 tablespoon ground coriander
1 tablespoon paprika
1 teaspoon salt
1/2 pint kumquats, thinly sliced
1/4 cup orange juice (about 1/2 orange)
1/4 cup water
1 tablespoon sugar
1 tablespoon grated ginger (about 1/2-inch piece)
2 tablespoons Sriracha
1 tablespoon soy sauce
1 tablespoon lime juice (about 1/2 lime)
1 teaspoon fish sauce
1/2 teaspoon toasted sesame oil
cilantro leaves, for garnish
lime wedges, for serving
Preheat oven to 400 degrees F. Line two rimmed baking sheets with aluminum foil. Toss wings in oil and rub with spices and salt. Divide wings between baking sheets, spacing evenly. Bake for 45 minutes.
While wings bake, prepare glaze. Combine kumquats, orange juice, water, sugar, and ginger in a small saucepan. Bring mixture to a simmer and cook until reduced to a thick marmalade consistency, about 30 minutes. Stir often to make sure mixture doesn't scorch.
Stir in Sriracha, soy sauce, lime juice, fish sauce, and toasted sesame oil.
Pour half of the glaze into a large mixing bowl. Add baked chicken wings and toss to cost, adding remaining glaze to coat all the wings. Transfer to a platter lined with parchment paper. Garnish with cilantro leaves. Serve with wedges of lime.
Yield: 8 to 10 servings.
- Recipe courtesy of Joseph Erdos