Toffee Crunch Cookie Brittle
Yield: 1.5 lbs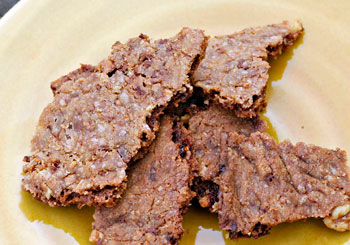 1 1/2 cups unbleached flour
1/2 teaspoon baking soda
1/2 teaspoon salt
3/4 cup unsalted butter, melted and cooled
1/2 cup sugar
1/3 cup light brown sugar
1 teaspoon vanilla
1 1/2 cups crushed chocolate-covered toffee
1 cup walnuts, chopped
Instructions:
1. Pre-heat oven to 350°F.
2. Mix flour, baking soda, salt in a bowl and set aside. In a large bowl, whisk melted butter, both sugars & vanilla until smooth. Stir in flour mixture. Stir in candy and nuts and the dough will be crumbly.
3. Leave 1″ border around silpat pad. Spread dough over silpat pad. Press the dough into a rectangle about 1/2″ thick, then use your palm to pat it into an even layer.
4. Bake until the top feels firm and looks dark golden at the edges, about 19 minutes. Let cool 10 minutes, then let cookie cool on a wire rack.
5. Break apart. Can be stored for 4 days.
Susan Salzman writes The Urban Baker blog to explore her dedication to good food in the hope of adding beauty to the lives of her family and friends.