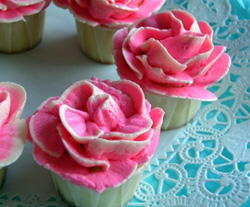 What is life without a little bit of the whimsical? The magical? The fanciful?
I think that is perhaps what I love most about the idea of decorating a wee cupcake: it's an opportunity to let your creative heart out.
Call me silly, but I just can't help but feel a bit of whimsy these days. Life is crazy as ever and the world is as strange as ever but some things never change.
I can smell spring in the air.
The other day I saw a few brave daffodils insistently pushing their way through the soil.
Today I saw the most perfect pair of summer sandals.
Ah, whimsy!
But whimsy also comes in other forms, namely a cookbook by the name of Little Cakes from the Whimsical Bakehouse: Cupcakes, Small Cakes, Muffins, and Other Mini Treats
by Kaye and Liv Hansen.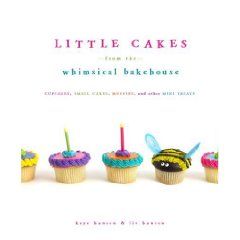 A very sweet and kind person sent me a copy of this book after reading about my experience baking cupcakes for the wedding of a coworker. I was so touched! I made a promise to myself that I'd take a look at the book and post about it and then work and life got in the way.
Happily, over the past few weeks I had some time to finally look through this book and I have fallen in love with it.
It's just adorable. Not to mention the fact that it's filled with some very good recipes for baking basics like buttercream, as well as numerous recipes for all sorts of cakes and treats. The book is organized into a series of "baking projects" that are all accompanied by detailed decorating instructions. Through the miracle of the Internet, those instructions are augmented by The Whimsical Bakehouse's web site, which has a number of useful videos on how to create various decorative accents.
While I was tempted by many of the projects in this book, the one that drew me in was the "Flower Power" project that features lemon coconut cupcakes decorated with buttercream in the form of a variety of flowers.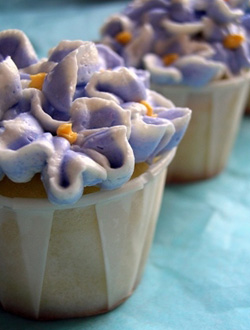 For the cupcakes, I adapted the recipe because while I love lemon and I love coconut, in a very strange twist I do not love those two ingredients together. Instead, I created dulce de leche coconut cupcakes by adding a blob of dulce de leche to the base of each of my cupcake liners. I replaced the lemon juice in the recipe with buttermilk to create a very tender crumb. For the buttercream, I used a recipe from the book called "Kaye's Buttercream" and added coconut extract to augment the coconut flavour.
This is such a sweet little book. I hope that as spring approaches and everyone's thoughts turn to lighter days and warmer weather, you'll take a moment to let some whimsy into your life and perhaps bake a cupcake or two!
Dulce de Leche Coconut Cupcakes
Adapted from "Little Cakes from the Whimsical Bakehouse"
Note: I used mini paper cups to bake these cupcakes. The recipe yielded 36 mini cupcakes. You can also make 12 regular-sized cupcakes. Be sure to grease a muffin tin and line with cupcake liners if you're making the regular-sized ones. I used a buttercream recipe from the book but I didn't adapt it in any way so I'm not going to post it here. For a really good buttercream recipe, try this one.
Ingredients:
1-1/2 (12 tbsp.) sticks unsalted butter, at room temperature
1 cup granulated sugar
2 large eggs, at room temperature
1 tablespoon coconut extract
1-1/2 cups all purpose flour
1/4 teaspoon baking soda
1/4 teaspoon salt
1/2 cup buttermilk, at room temperature
1 cup sweetened shredded coconut
1 cup dulce de leche
Method:
Preheat the oven to 350°F.
Line paper cups on a baking sheet. Place a dollop of dulce de leche in the bottom of each paper cup. Set aside.
In a bowl, sift together the flour, baking soda and salt. Set aside.
In the bowl of a stand mixer, cream together the butter and sugar for 3 minutes. The mixture should be pale and fluffy.
With the mixer on low speed, add the eggs one at a time, mixing well after each addition. Be sure to scrape down the sides of the bowl.
Add the coconut extract and mix well.
Add the dry ingredients to the mixture in three stages, alternating with the buttermilk in between each stage.
Be sure to scrape down the bowl to ensure that the batter is well mixed.
Remove the bowl from the mixer and stir in the coconut.
Spoon the batter into the waiting paper cups. They should be halfway to three-quarters of the way full.
Bake for 20 minutes and check for doneness. If a cake tester doesn't come out clean, bake for a few more minutes.
Remove the mini cupcakes to a wire rack and let cool completely before frosting.
-- Originally published on Ivonne Mellozzi's blog Cream Puffs in Venice.