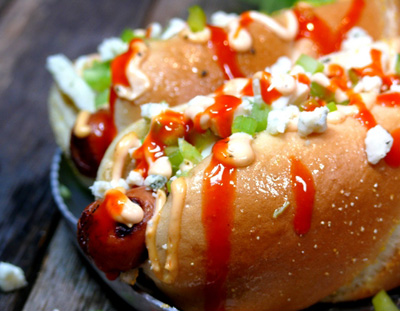 Recipe Created by Noble Pig | Serves: 8 hot dogs
Ingredients:
Buffalo Mayo
1 cup mayonnaise
1/8 cup Frank's RedHot Buffalo Wing Sauce, more for drizzling
juice of half a lemon
1/4 teaspoon coarse ground black pepper
Hot Dogs
8 large, bun length hot dogs
8 hot dog buns
4 sticks celery, diced
1/2 cup crumbled blue cheese
Directions:
For the Buffalo mayo, combine all ingredients and keep refrigerated until serving time. Cook hot dogs according to package directions or grill them for the best taste. Place hot dog inside of bun and drizzle with Buffalo mayo. Sprinkle celery and blue cheese, pouring extra Frank's over the top. Serve immediately.
- Recipe courtesy of Cathy Pollak