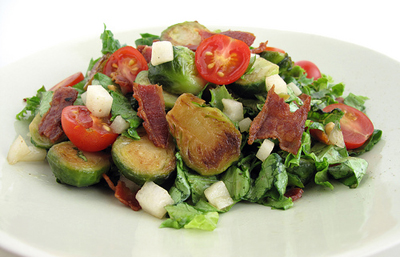 olive oil
1 garlic clove, finely chopped
1 stalk Brussels sprouts (about 2 pints), trimmed and halved
fine sea salt
freshly ground black pepper
4 strips bacon
1 tablespoon rice vinegar
1 tablespoon sherry vinegar
1 teaspoon Dijon mustard
1 Asian pear, peeled, cored, and diced
1/2 head green leaf lettuce, shredded
1/2 pint cherry tomatoes
Warm olive oil in a sauté pan over medium-high heat. Add garlic and sauté until fragrant, about 2 minutes. Add sprouts and cook until cut sides are brown. Season with salt and pepper. Add more oil if pan gets too dry. Add 1/2 cup water, cover, and cook sprouts until tender, about 5 minutes. Remove cover and let any remaining liquid evaporate.
Fry bacon in a pan over medium-high heat until crisp. Reserve remaining fat in the pan.
To make vinaigrette, combine 2 tablespoons olive oil, 2 tablespoon bacon fat, vinegars, and mustard. Season with salt and pepper. Whisk to incorporate.
To assemble salad, combine sprouts, diced pear, and lettuce with half the vinaigrette. Serve salad topped with crumbled bacon and cherry tomatoes. Drizzle with remaining vinaigrette. Yield: 4 servings.
- Recipe courtesy of Joseph Erdos and his blog, Gastronomer's Guide.