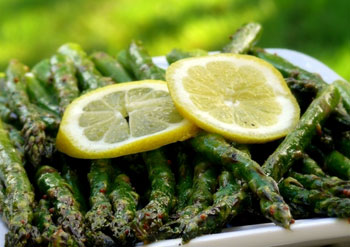 Serves Four
2 lbs asparagus, trimmed (2 bunches)

3 Tablespoons olive oil, divided

Salt and black pepper

1 Tablespoon minced fresh dill

1 Tablespoon fresh lemon juice

1 teaspoon Dijon mustard

1 teaspoon whole-grained mustard
Preheat oven to 425°F. Toss asparagus with 1 Tablespoon oil, salt and pepper together in a large bowl. Place tossed asparagus on a baking sheet and roast until tender, 10-12 minutes.

Whisk remaining 2 Tablespoons oil, dill, lemon juice, Dijon and mustard in a large bowl, season with salt and pepper.

 Toss asparagus with vinaigrette until coated.
- Recipe courtesy of Cathy Pollak