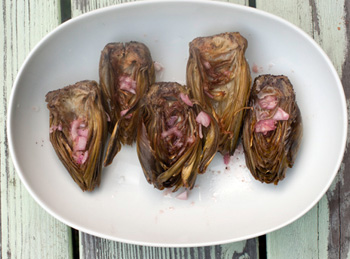 Yield: as many as you want to eat (I used 6 medium size – and cannot wait for the baby artichokes to arrive)
Ingredients:
for the artichokes:
6 organic artichokes
6 cloves of garlic, peeled
6 stems of fresh oregano, tied in a bundle
1 teaspoon Celtic sea salt
1/2 teaspoon white pepper
For the vinaigrette:
2 teaspoons shallots, minced
1 teaspoon Dijon mustard
2 tablespoons red wine vinegar
1 teaspoon raspberry vinegar
6 tablespoons avocado oil
1/4 teaspoon Celtic sea salt
1/8 teaspoon fresh ground pepper
Instructions
For the artichokes:
Cut the stems from the bottom of the artichokes. peel off the lower leaves (about 20). Trim the top part of the artichokes. Cut the artichokes in half, lengthwise. Using a heavy duty, dutch oven, place the artichokes, flat side down.
Cover with olive oil. Add the garlic, and oregano, Celtic sea salt, and white pepper. Bring to a boil over high heat.
Cover the pot, lower flame and simmer for 22 to 25 minutes or until a knife is easily inserted into one of the hearts.
Discard the oregano and garlic. On high heat, with the cover off, fry for 4 minutes. Rotate artichokes (back side down) and fry for an additional 7 minutes. They should be crispy. Place them on a paper towel to drain. Drizzle shallot vinaigrette over artichokes and eat standing up!
For the vinaigrette:
Toss all ingredients in a glass jar, shake it up. Store leftovers in the fridge for your next salad.
- Recipe courtesy of Susan Salzman