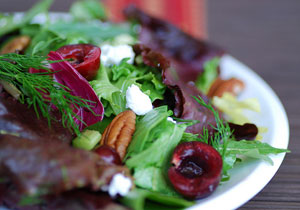 Serves 4

Vinaigrette:
1 tablespoon extra virgin olive oil
2 tablespoons white balsamic vinegar
1 teaspoon lemon juice
2 tablespoons finely chopped fresh mint or parsley
1/4 teaspoon sugar
salt and freshly ground black pepper, to taste

Salad:
8 cups mesclun greens, preferably with mixed herbs
1 cup pitted fresh cherries, halved
2 inner white stalks of celery with leaves, thinly sliced
2 tablespoons crumbled goat cheese
2 tablespoons toasted pecans

For the vinaigrette, whisk all ingredients in a small bowl and set aside.

In a large bowl, add the mesclun greens, cherries, and celery. Pour half of the vinaigrette and toss until coated. Divide evenly among four plates. Add crumbled goat cheese and pecans to each plate. Drizzle with the remaining vinaigrette.

**White balsamic vinegar is made from white wine vinegar and grapes. Because it is milder than traditional brown balsamic vinegar and doesn't stain food, it's preferable for this cherry salad. It can be found at specialty markets and most major supermarkets. Rice vinegar can be substituted.
--Recipe courtesy of Food Blogga.