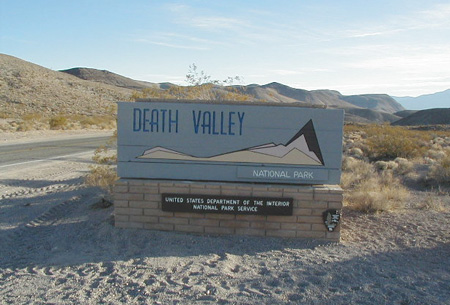 Right up front let's just say Death Valley is not a destination trip for foodies. Don't fool yourself for a minute on that score. Death Valley is where you go to see extraordinary beauty, hike mind blowing rock formations, find God or ingest mushrooms (not particularly in that order), but one does not go for culinary arousal. Not that you can't eat well and enjoy some surprisingly good meals but as my illustrious travel companion (i.e. foodie daughter) pointed out, that is because we weren't expecting much.
Having said that, Death Valley is an absolute must see. Take it off your bucket list and move it straight to your "to-do" list. Now. The shame about Death Valley is its name. And the older one gets the less fun it is to say, "I'm going to Death Valley." It was my daughter's idea. At 63, I couldn't bring myself to suggest it. Palm Springs was the closest I could come on my own. And we all know whose waiting room that place is!
My daughter, home from the east coast, freezing east coast, I should say, in between jobs and exploring her options (read sleeping & being fed by mom) could have proposed Bosnia as a mother/daughter road trip and I would have blurted my "Yes" out. Death Valley sounded perfect! For those who have never experienced a mother/daughter road trip, once the daughter half of the team is over 21, it is a wonderful thing! Totally different from those nightmare road trips back in the day when they were teenagers and being in the car with them for more than ten minutes gets ugly. A road trip? Only a total masochist on a pain run would attempt it.
Death Valley conjures up Hugh O'Brien and the TV show Wagon Train and it's sponsor, Borax Soap and their twenty mule team logo... This would give away my age had I not already done so. My daughter did the leg-work learning that The Furnace Creek Resort was the only game in town, other than a roadside motel right after the turn off to Death Valley. The motel isn't listed for reasons understood upon passing it.
Furnace Creek it is. The Inn is the swankier, more upscale and pricier choice, or the Ranch: family friendly and recently remodeled. My daughter after being a self-supporting working woman in New York City for the last two years offered up the much appreciated opinion, "We should stay at the Ranch. It looks just as good as the Inn, and is 100 bucks less a night." Thank You Jesus! They do come to value a dollar!
Our trip started at 8:30am on a Monday morning and with an initial pit stop to Starbucks we hit the 405 at 8:50. It seemed fitting somehow to skip a good breakfast at home and start a road trip with a venti wet cappuccino and a raspberry jelly donut from Starbucks. I had packed a bag with a few tangerines and a banana I grabbed because it was starting to head south. A good mother packs fruit snacks.
She took the wheel for the first three hours to Lone Pine. It was an easy drive, scenic for the most part. Ranches, desert, sand shades. Being near the ocean in LA, it's easy to forget that we live in a desert. Go forty-five minutes out of town and the caramel colored terrain spotted with cactus trees reminds you. About an hour outside of Lone Pine, which is famous for the John Ford westerns made there, we drove past a grove of cactus trees evenly distributed on both the left and right side of the road that looked like a village of little people, perfectly groomed, manicured mini munchkin shaped cactus tress in a mini cactus tree orchard. It was fabulous!
Stopping in Lone Pine to gas up and see what was going on took about 20 minutes, most of it spent in the local coffee shop/ice-cream parlor/luncheonette where my daughter waited on line for 15 of those minutes to pay for a bag of homemade beef jerky and a bottle of water. While she did that I scanned the movie posters of John Wayne and Maureen O'Sullivan in "Rio Grande", a John Ford classic, "The Three Godfathers" and a couple of low brow-low budgets starring pretty girls who have probably morphed into aging real estate brokers in Beverly Hills by now. After filling the tank and grabbing a bag of pistachios for the last leg of the trip, I took the wheel. Something I regretted.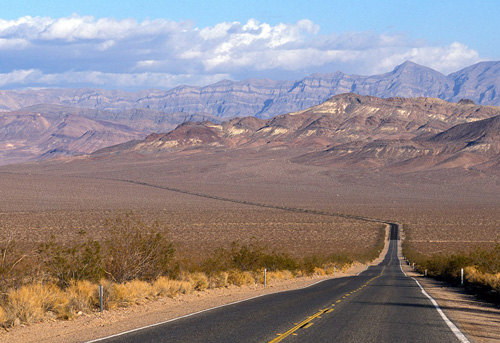 It's a straight shot to Death Valley from the main turn off just outside of Lone Pine. Being stunned and amazed by the surrounding beauty, it's hard to keep ones eyes on the road and that's a must with all of the dips and curves ahead. Colors, shapes, light and sand stretch out endlessly before you. It just keeps going and going and there's nothing else. Occasionally another car comes behind you or in front of you and then disappears. Keep in mind this is a Monday, no holiday or weekend. At one point the 24-year-old sitting in the passenger seat becomes 17 again and demands to know why I change speeds and slow down so much. I shut her up by saying I don't have the hormones for this road with all it's dips, deciding then and there that she's driving this part on the way home.
OMG. Hate to be valley girl about it but entering Death Valley is a true Oh MY GOD moment if there ever was one. Awesome. Rock formations that blend into mountains sit on dessert sand that changes colors from light beige to brown and stay pristine. Either people are so damn awe struck by this beauty that they behave respectfully and don't litter; keeping their empty gum wrappers and Red Bull cans in the car, or this place has a great sanitation crew. Struck again by why travel is so necessary, I think of all of the pictures I've seen of Death Valley over the years and how they don't hold a candle to the real deal.
The Ranch is fine. Totally works. It's a well-upgraded bunk house like 50's motel they've gussied up with a good sized pool and tennis courts and built a little cowpoke town around. There's a saloon, a general store (carrying everything from Mexican cokes in bottles to cats eye marbles and great leather bracelets for $5.99!), a steakhouse and a post office. All clean, well maintained replica's of the real thing. Massages available as well as sunset horseback rides. Our room, which still bore it's motel bones, was spacious, well appointed with two queen sized beds fitted out in 100% cotton sheets with a big thread count, (am guessing by the feel) and a flat screen TV. A new coffee maker with a complimentary bag of organic coffee sat on top of the mini fridge, the terrace faced a lawn, there was excellent Wi-Fi connection. I was in heaven.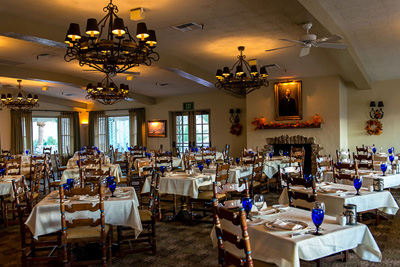 Up the road about a half a mile or so sits the Inn, quite proudly on top of a rock formation with impressive wood and stone work. The Inn impresses from afar and does not disappoint on closer inspection. No getting around it, the Inn cuts a fancier figure.
The first night we dined in the restaurant at the Inn which is billed, and rightly so, as the best of all of the choices. Did the food compare to an upscale big city fine dining spot? No. But it sure did try. It was a white tablecloth room with good friendly service and excellent cheesecake. The décor was okay (blue walls, local art). My butternut squash soup when salted was good and my goat cheese salad more than good. My daughter's grilled salmon was delicious and cooked well, the way I prefer it. (She doesn't.) I went through the first basket of homemade bread by myself and asked for a second. The best part for me was, as always, dessert. Sublime cheesecake. That melt- in- the- mouth- cheesecake you decide while eating that you are having again the next night, kind of cheesecake. After scraping every crumb off the plate we decided to take a drive in the almost full moon light before heading back to the Ranch and turning in.
Episode 2 in the OMG series. How does one describe salt flats that appear in the distance to be waves in the ocean? Or delicate bundles of tumbleweed sculptures, light reflecting gray delicately entwined branches dotting the moonlit highway? We drove 10 miles out to Badwater Flats on a road lit by the moon and stars and passed only one car heading back towards the inn. We parked in the lookout spot. Not a sound, not a soul around, just white salt stretching out before us for miles, like a frosted over ice pond.
Breakfast at the 49er café at the ranch next store to the General Store was only okay. Oatmeal for my big girl, overcooked fried eggs and biscuits for me. The real bummer was that they only served coffee, no fancy latte –schmattes and getting some milk to do my own thing, half hot milk /half coffee (with 3 packets of Stevia so it tastes like melted coffee ice cream) took forever. By the time it arrived the over cooked eggs were overcooked and cold. I didn't mind. The fusspot in me has mellowed with age, plus my mind was on the hike we were about to take.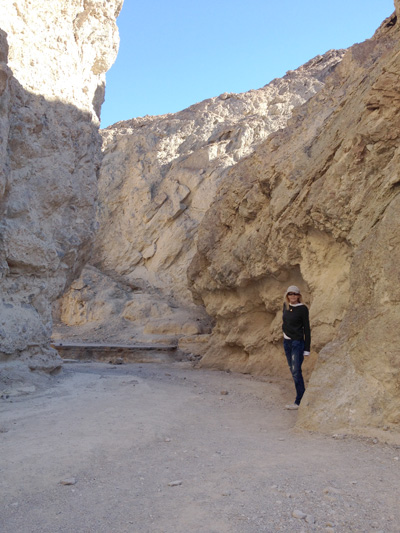 Episode 3 of OMG began in the parking lot of Golden Canyon where we hiked two miles through a basin that had once been a lake. Ages ago, the combination of extreme flooding meeting arid land caused massive flooding that left carved out rock formations, trails and narrow prehistoric looking pathways. With the light changing on each new angle and the sacred silence of the place, it was a humbling and reverential experience. Hungry and thinking about lunch, we wanted to keep taking it all in. It was like being pulled away from the most exquisite painting in the world. The colors: reds, pinks and lavenders, the many shades of green, kept inviting us to stay, to come closer.
Lunch was takeout sandwiches from the 49'er Café. Sandwiches and fries not up to par. We didn't bother with the fries and decided we would both get some work done for a couple of hours (I was on a deadline, Big Girl applying for an oversees fellowship) then go for a sunset drive before trying the Steak House at the Ranch for dinner. With the French doors to our terrace wide open, working away at my laptop on my bed with a view of the desert mountains was a joyous thing I could get used to!
After a fabulous sunset drive to Dante's Ridge, a lookout point that stopped abruptly and so jaggedly that it felt like we had come to the end of the world, we decided to order in something simple from the Steakhouse. It was a slow Tuesday night, but the faux saloon décor; dark red, fake looking wood finishes, dark lighting, nor the one and only couple sitting wordlessly in the faux red leather booth, appealed to me. It was a soup/salad/rolls and butter, all-included menu. After a quick study I chose the roast chicken /mashed potato entree. With the soup and make your own salad I knew it would be enough for both of us. It was that kind of pile it on place. After a last minute glance at the dessert menu, I threw in a piece of chocolate cake. While waiting for my order I walked over to the General Store for a carton of milk to go with the cake.
Whether it was exhaustion from a great day or some old western recipe, that roast chicken was delish! Moist in the inside, charred well outside, it was perfect. The Big Girl called it a "huge Surprise!" along with the chocolate cake which we ate noisily, each of us exclaiming "yum" in between bites and sips of milk.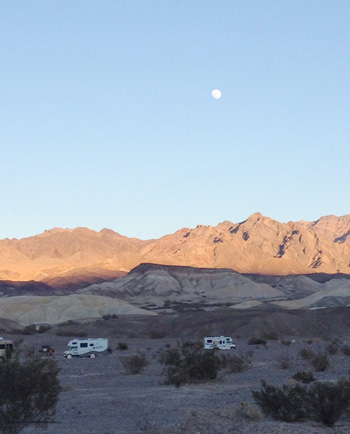 The next morning, another beautiful desert day, I decided we should try breakfast at the Inn before heading home. "You know what the test will be?" I asked Big Girl, now dressed and ready to roll although not happy about leaving.
"Yes, Mom…if they make cappuccino, right?"
"No, My Princess," said I, surprised she didn't know the correct answer.
"Real maple syrup…that's what separates the so-so from the good going for great." Dang (a Wagon Train term!) if they didn't have real maple syrup to put on my short stack! As well as a good cappuccino. Breakfast at the Inn: an A over the C+ I'd given the 49'er the day before.
Leaving Death Valley was hard. We both wished we had another day to explore and maybe take the sunset horseback ride offered at the Ranch. Giving the room a final glance we closed the door promising, "next time." And there will be a next time. Soon. I can't wait to take my husband there. He'll love it and I'll love sharing it with him. But that will be a different trip, our trip, his and mine.
This trip, this mother/daughter road trip, this invitation only act of spontaneity and mild adventure, (after all it was Death Valley, not Mozambique), will be forever written and held in my heart. Only, and always, belonging to my Big Girl (aka foodie daughter) and me.
LA based Writer, Annie Stein, has written for C and More Magazines, NYTimes and is a regular blogger on Huffington Post. She runs creative writing workshops for at risk teens.