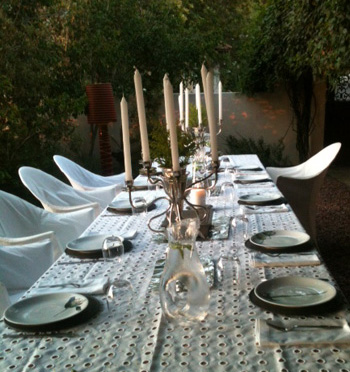 Isn't it great to be blessed with friends who entertain beautifully, who attend to every detail, artistically, with care and flare? Friends who take pleasure in delighting with beauty and richness?
I am one lucky ducky in this department for sure. Most of my friends enjoy setting a pretty table and "doing the flowers" as I call decorating when having guests over for a meal. A couple of my peeps, though, are off the charts in this department which causes me to spend most of my time wandering around their house saying "wow I love that," like I haven't read a newspaper in weeks and have nothing else to say for myself, or like a gal from East Podunk, straight off the farm, who's never seen a formal place setting before let alone matching salt and pepper shakers. Or someone in awe of people who create beauty and inspire me by the things they think of and do. Please say the latter.
One would expect our friends Heidi and Guy to have a great house. She's been selling prime LA real estate for 25 years, and he is the proprietor of Ligne Roset Los Angeles, the go-to store for architectural furniture. Ten years ago Heidi and Guy combined tastes, talents and 3 young teens and moved into a sprawling and spacious Spanish, Mission- style house in a canyon with a never ending view of LA's immense valley. Guy is almost apologetic in sharing in his off the cuff, just between us, way that the style of the house, the architecture, is not really him so much, (like any of us who know him and his exquisite design sense need to be told), but the interior and over all vibe of the house is so him and Heidi in all of their beauty, creativity and warmth; the art, furniture and fabrics, the two gorgeous greyhounds, the family photos taking up a whole wall in the kitchen juxtaposed with the Chanel Houndstooth fabric on the family room couch.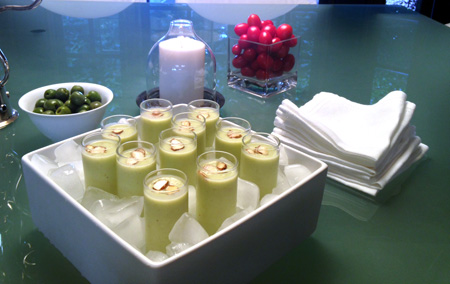 Our family summer dinner starts outside on one side of the house with drinks and ends up clear across to the other side of the house by the pool for coffee and dessert. We start in their kitchen with drinks and hors d'oeuvres. White spoons full of ceviche are lined up neatly, begging to be picked up, right next to a board overly loaded with cheeses.
The piece de resistance though is when we hit Heidi's special concoction on our way out to the candelabra lit, white table clothed long table overlooking the lights that are starting to dot the valley below. Just when that "oh this is such a magical land we live in" hits you from the beauty below, you dash back into the kitchen for another shot of Heidi's concoction!
Cucumber gazpacho served over shaved ice in shot glasses with slivered almonds sprinkled on top. That is a lot of "s" sounds for one tiny drink but believe me it's worth every one! These cucumber shots, an entry in the cookbook she's working on called TraLa La, make one say tra la la give me 5 more of these please! A few bites of cheese and a couple of crackers and let me sit outside all night! Who needs dinner! Light, clean, tasty and cold you just want to do cucumber gazpacho shots all night! My new drink, which I'll be making all summer and continuing to call 'Heidi's concoction!"
True confession, I always resent getting up from the table and changing local for dessert at their house. I get why they do it, and I'd absolutely do it if it were my house, but I 'm so thoroughly enthralled with my view and the candlelight, I never feel ready to leave it.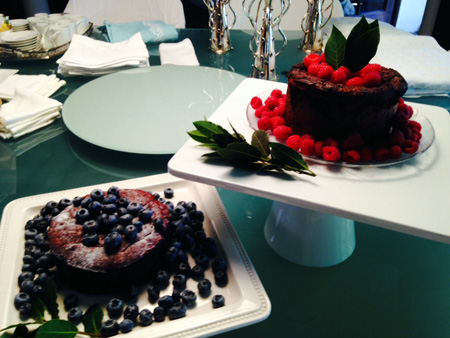 Until I get there. Then I'm happy to have arrived at the pool and the palapa and that table laden with chocolate cakes (plural!), bowls of the season's sweetest strawberries and blueberries with adjoining bowls of cream.
Heidi has demitasse cups (that I'd love for my next big birthday, please!) laid out in a perfect row with their accompanying cream and several choices of sugars.
The sound track to this portion of the evening would have to be Farrell Williams "Happy" played at moderate tilt boogey, just enough to get the feet tapping and body swaying, as the very happy, indeed, guest sit admiring the garden and licking the last drops of chocolate off their forks.
Once again we went home feeling fat and full, and drunk on cucumber shots and chocolate, and very thankful that summer has arrived!
Heidi's Cucumber Gazpacho
Puree in a blender or food processor:
4 peeled, seeded and chopped cucumbers
1 1/2 cup green grapes
2 cloves of garlic, chopped
1/3 cup olive oil
2 teaspoons rice vinegar
dash of salt to taste
Serve very cold in shot glasses over a bed of crushed ice with roasted slivered almond pieces.
LA based Writer, Annie Stein, has written for C and More Magazines, NYTimes and is a regular blogger on Huffington Post. She runs creative writing workshops for at risk teens.