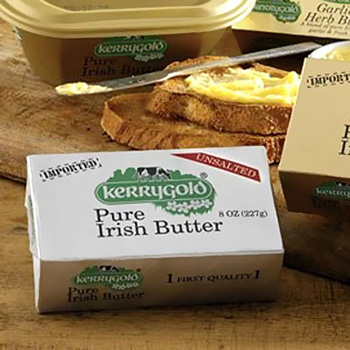 Before leaving on my recent trip to Ireland I was thinking that while there, I'd write about the butter. I even remarked that I thought I had a "butter piece" in me. Limited thinking, that's what that was!
Don't get me wrong, I haven't, nor will I ever, lose my taste for Irish butter. It is truly the creamiest, dreamiest butter on earth. Truth be told I am a girl who could and would be happy to spend the rest of her days eating bread and butter. Fresh French baguette, slathered in Irish butter washed down with an ice cold American coke in a glass bottle, now that's my heaven!
Once in Ireland, though, going from county to county with my brave husband behind the wheel of our rented car with said wheel being on the wrong side of the car and himself (as the locals say) driving on the wrong side of the road, I discovered two new Irish loves.
One could be called a relative of butter; a third or fourth cousin several times removed. The second, funnily enough, could be called the anti-butter or even the antidote to butter.
Who knew, other than the Irish themselves perhaps, that they make THE BEST FRIED EGGS on the planet. OMG as we Americans with teenagers still at home say, the fried eggs in Ireland are extraordinary. Boy do those Irish know how to fry an egg. They are, in Kelly Osborne's favorite word (I have no shame in admitting Fashion Police is our family show of choice!) "perfection."
In Dublin, Galway, and then Cork, everywhere we stayed, breakfast was a joy to behold. Breakfast is and always has been my favorite meal of the day. There have been days in my not so young life when I can admit to breakfast being the only reason to get up in the morning!
One of my most treasured and easily accessible sense memories is the smell of bacon and eggs frying, coffee brewing and bread toasting, all of it combined into one aroma, a single smell that wafted up the back stairs of the kitchen to the 2nd floor where the kids slept in my grandfather's summer house in Quogue, New York. (The un-Hampton Hamptons).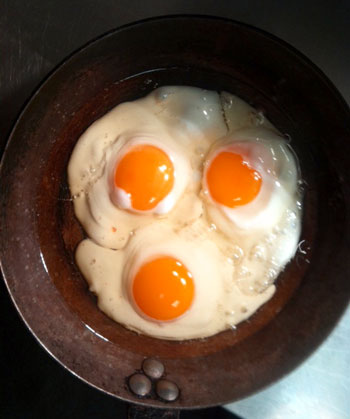 My grandfather was a self made man; a lawyer, a state senator and a true Irishman. He fathered twelve children who all (except for the one who became a nun) did him proud by having a mess of kids of their own who congregated in Quogue every summer until he died when I was eleven and the breakfast smells stopped wafting up the back stairs to the second floor.
Going on my first trip to Ireland I felt I'd somehow connect with my Irish heritage. My guess would have been through the blue eyes and freckled faces. I never dreamt it would be through fried eggs! Not only was the taste perfection, but there is so much to say about the yolk color…and the preparation!
A lot of us by now have been lucky enough to have tasted an organic egg and noticed that the yolk is more orange than the dull yellow yolk found in supermarket un-organic eggs. The eggs I ate in Ireland had Hermes orange yolks.
One cannot find a better orange than that! Arriving at breakfast, to a glorious sight; a cast iron pan with several eggs spitting tiny beads of butter with their fully rounded Hermes orange unbroken, unblemished yolks, looking up at me as if to say good morning, assured me of a great day.
They were indeed so perfect they could have been accompanied by a sign saying "No Bacon Need Apply."
Going from the sublime to the divine, my next Irish treasure came as a complete shock. A spa! A ridiculously fabulous spa in Ireland. Perhaps I am a naïve traveler but who would expect a world-class, jaw-droppingly gorgeous spa in Cork, Ireland. If I weren't lying down on a massage table you could've knocked me down with a feather! When one thinks spa, Bali, Hawaii, Kyoto, maybe Sonoma Valley, come to mind. But the village of Douglas on the outskirts of Cork would never make the jeopardy board. It should! Up there with the P for perfect eggs, it is a treat to behold.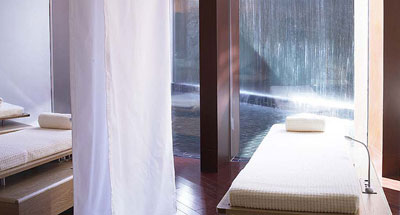 I could have forgone the lovely room we had at the Maryborough Hotel and Spa and just camped out in the spa's relaxation room. The soft leather loungers staggered to face a cascading waterfall came with folded cashmere blankets at the foot and personal head sets plugged into a sound system programmed with several classical channels, along the sides, just finger tips away.
On the floor beside each lounger, a mere stretch away, was a leather basket brimming with Irish Vogues, British Tattlers and enough "Hello" mags for a months' worth of perusing. Once settled in for the relaxation before the relaxation, one is brought a small bamboo tray with two shot glasses, one with a mango smoothie, the other, a strawberry smoothie. The foreplay to the most blissful massage I've ever had.
When I dream of Ireland now, which I will, it will not be the rambling green meadows, lush and dotted with well coated sheep and fat cows, of which there are plenty, that I'll dream of. It will be the eggs, with their Hermes orange yolks bubbling away in wait for me, and of quiet Lucy who somehow made her way from Tokyo to Cork and how she let her fingers do the talking from the top of my head to the tip of my toes at the Maryborough Spa.
LA based Writer, Annie Stein, has written for C and More Magazines, NYTimes and is a regular blogger on Huffington Post. She runs creative writing workshops for at risk teens.