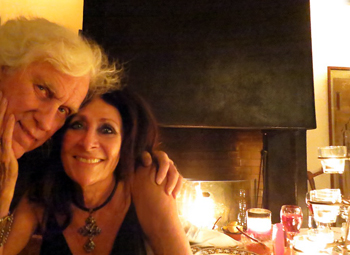 No one goes to Francois Kirkland's house for dinner. Friends go there to dine.
What her husband, the photographer Douglas Kirkland's studio is to him, the hub of his art, the capital city of his creativity, the kitchen is to Francois.
It is the stage she was born to dance on.
Being French helps.
At 19 she met and fell in love with Douglas who was in Paris shooting CoCo Chanel for Life Magazine. Dropping out of University to follow the tall, lanky, ultra sexy artist back to New York to be his young bride, it never occurred to her that she would spend so much of her life in a kitchen.
Or perhaps it did. Again, she's French.
Cooking, though, is indeed her art form and Francois is a gifted artist.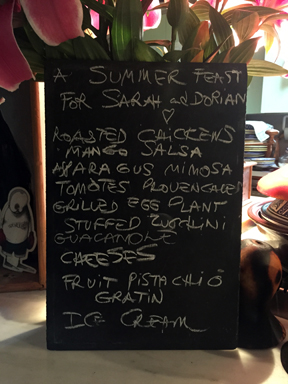 Word got out early about Douglas Kirkland shoots. They were coveted jobs to land. The subject was always fascinating or sexy or amazing looking or all three. Douglas was a genius in motion, working from the depth of his soul as shown by the sweat on his brow.
But it was lunch that had the NYC advertizing world abuzz.
There was no calling down to the Deli for tuna sandwiches, no ordering in pizza and salad. The French chef in the studio kitchen with the cobalt blue eyes, wearing the tight skirt and high heels (or barefoot) served a full feast every day for cast and crew.
Starting with soup or salad, going on to an entre of roast chicken or Beef Bourgogne, she would finish it up with an apple tartine made from scratch.
The talent, the assistants, hair and make up, everyone began echoing the studio's most popular phrase by about 10 am; "When's lunch?"
Even after all of these years (and thousands of shoots) the only time Francois doesn't make lunch is when they are on location. Then they all, including the Parisian chef, miss it. That is because cooking and feeding people is what Francois does. It isn't her job or a chore, it's just what she does. And she does it with such ease and so much love.
For the non pro's, those of us who don't work with Douglas but are lucky enough to be friends or family, there are dinners. Amazing dinners and for the very, very, oh -so –lucky there are Holiday Feasts!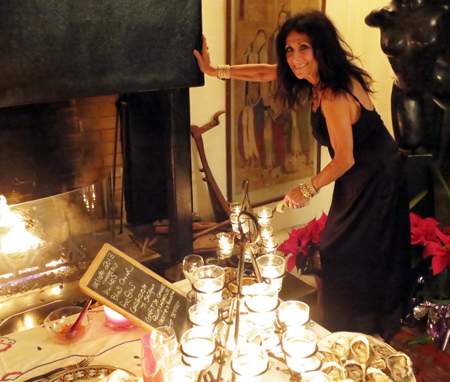 Here is a picture of Francois as she entertains dinner guests; curly black hair, lots of it, swirling just past her shoulders. Dolce and Gabanna body-fitting dress, fitting her body perfectly. Heels; five to six inches. Right arm adorned with a stack of mismatched silver bracelets that make music when she moves.
She laughs and stirs the sauce on the stove.
She bends down to check the potatoes roasting in the oven.
Her heels clank on the floor as she crosses from oven to sink to wash lettuce.
All while she shares a funny antidote about her day. She is mesmerizing.
There is a small colorful bowl from Provence filled with perfectly oiled and salted almonds next to a tray of assorted French cheeses on top of the counter dividing the kitchen from the dinning room. Guests can nibble while watching her whisk fresh lemon juice into olive oil and balsamic vinegar for the salad.
The watching, the nibbling, the listening to the music of moving bracelets is all foreplay for what's to come. Like one of the Williams sisters playing tennis, Beyonce dancing, or yes, Douglas taking pictures, she makes it look so damn easy!

Those of us who invite our friends over for dinner but have never treated them to a true "dinning experience" (or as my husband calls it, "real cooking!") stand in awe of Francois . Stand in awe and praise, waiting hopefully for our next dinner invitation.
LA based Writer, Annie Stein, has written for C and More Magazines, NYTimes and is a regular blogger on Huffington Post. She runs creative writing workshops for at risk teens.