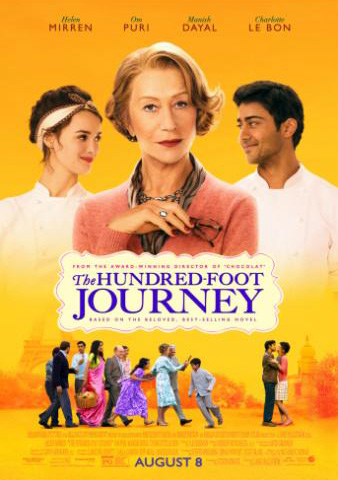 Working for a food magazine, your life pretty much revolves around eating and drinking. Not as much as people might think, but more than the average person in America. I am more of an oenophile than a foodie, but I know great food when I taste it. It's food that lingers in your imagination for days after the experience and that you just can't seem to stop telling other people about. Flavors that come right back to you, when you think about THAT bite and how surprisingly delicious it was. It doesn't have to be fancy to be memorable, but true culinary genius is, like most talents, not a common thing - the theme of this sweet and sumptuous little film.
Sure it has big backers behind the scenes - anyone heard of Oprah and Spielberg? - but the story of a young Indian chef on his path of culinary self-discovery is simple, funny and heartfelt and will leave you hungry for more. Forced by tragedy to leave India, Hassan Kadam and his family find themselves in the small village of Saint-Antonin-Noble-Val in the south of France. The locals don't know what to make of the family and they certainly are not necessarily lining up to enjoy their Indian cuisine, but the family refuses to give up and slowly begins to make headway in the village.
Though he has no formal training Hassan, who learned everything he knows about taste and spices from his mother, is made the chef of the family restaurant, Maison Mumbai. The family's loud and ethnic presence makes their direct neighbor Madame Mallory, the chef/owner of a Michelin-starred restaurant Le Saule Pleureur, very, very unhappy. What ensues for the first half of the film is a comic War of the Roses with both sides trying to make the others' lives miserable, while gaining business for themselves.
The only two people who refuse to take sides are Hassan - who's begun to delve into the subtle mysteries of French haute cuisine - and his counterpart Marguerite, an up-and-coming chef working under Madame Mallory, who shares his love for the simple pleasure of food and a passion for their craft. Their budding love blinds them initially to the world around them, but when Hassan's ambition and exquisite natural talent finally wins over Madame Mallory the ambitions of these two young chefs collide, sending Hassan into a world he never imagined he could be part of and away from what truly matters - family, true love and cooking from the heart.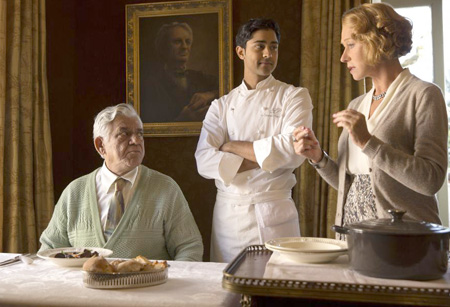 The story is not exactly complicated or filled with surprises - everyone and everything ends just where you know they will - but the film has a great cast that makes these characters not only unique but utterly charming as well. The Kadem family could have been portrayed as caricatures and for comic relief (and at points they clearly were), but their traditions and love for each other are never disrespected and you wish they lived next door to you. Except for the loud music. The smells would be amazing.
Even Helen Mirren, who could just be a one-note haughty bitch, brings a clever subtlety, intensity and grace to the role. Her restaurant is her whole life and you don't want to like her, however, it's her class and standards that help propel Hassan to greatness and also give him the confidence to trust his own palate and creativity. There is a spark between the two young lovers, but you'd be hard-pressed to call theirs a deeply-felt romance. I wished for a greater connection, yet then it would be more about love and less about the journey or the food, so…
And speaking of the food…it is certainly one of the main characters of the film and it will make your mouth water and stomach rumble. Don't come to this flick hungry. The scenes in the markets - both in Bombay and France - are just so lush, fresh and beautiful, filled with so many amazing ingredients it's hard to think straight. I was making lists in my head…a little bit of this…definitely some of that. You just want to grab a basket and start filling it. I do not have the patience or palate for cooking at the level showcased here, yet I could watch them chop and sauté all night long. The film gives each cuisine - Indian and French - their proper due, though clearly it's the French recipes that win out in the end…though with just a little spicy kick to let you know there's an artist in residence in the kitchen.
If you love food, looking at food or are just yearning for a film about real people with honest ambitions and human emotions then The Hundred-Foot Journey is the perfect plate of summer fare. A delightful contrast to all the mind-numbing, soulless flicks filled with super heroes, robots, mayhem and mutant turtles served up this time of year. It will inspire you to get in the kitchen and get creative…or at least go enjoy a proper French meal. Kick-start your own foodie adventure with a few of the recipes inspired by the film. A little French, a little Indian, you won't go wrong with either.
Chicken Tikka
Created by Chef Floyd Cardoz
Serves 6 - 8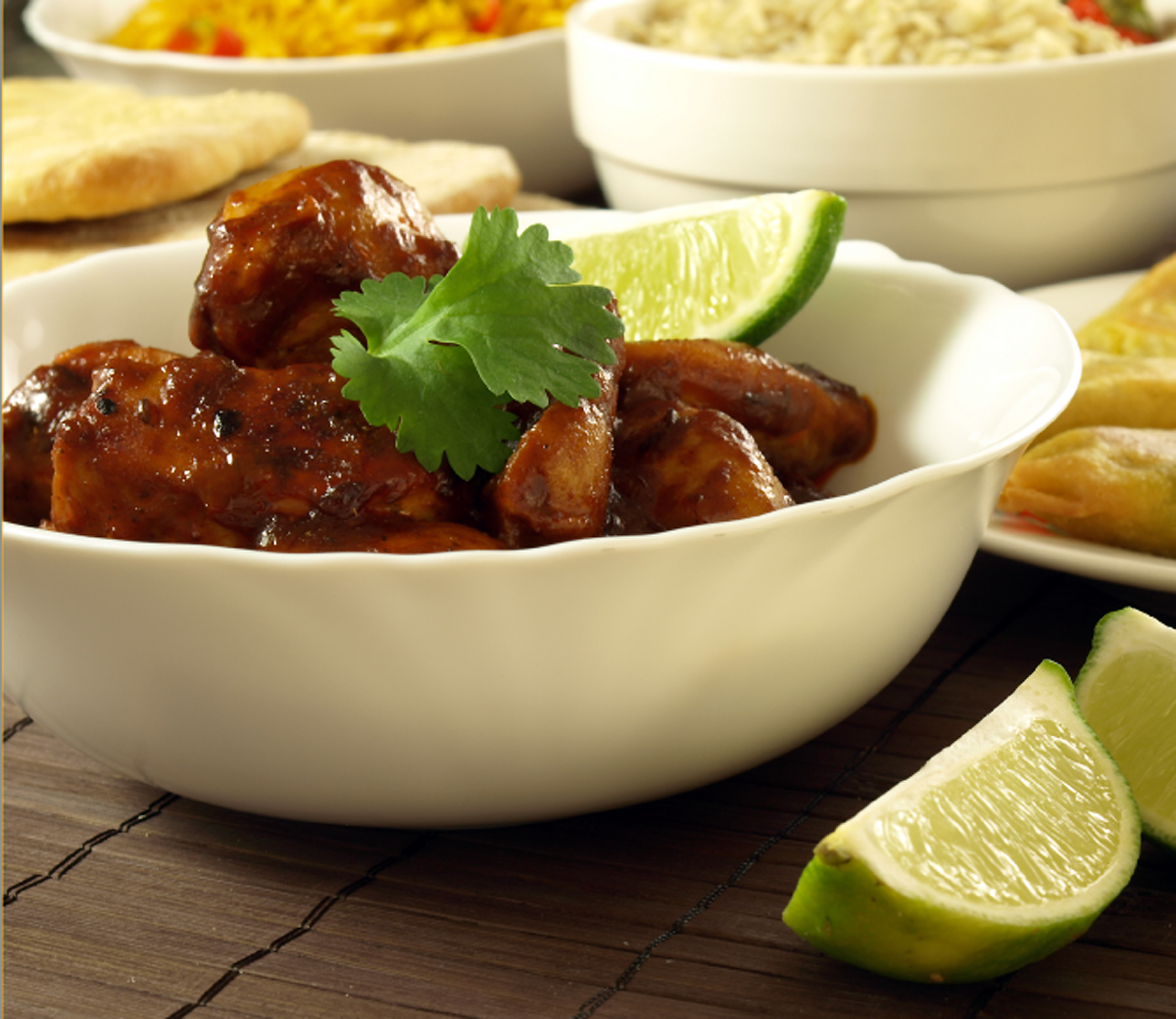 Ingredients:
3 lbs boneless skinless chicken thighs cut into halves
Salt to taste
Juice of 3 limes
3 tablespoons fresh root ginger
8 large cloves peeled garlic
2 cups yogurt drained of its whey or Greek yogurt
½ stick of cinnamon ground fine
4 cloves ground fine
4 tablespoons smoked paprika
1 teaspoons cayenne
4 green cardamom ground fine
4 tablespoons canola oil
Method:
1. Rub the chicken with salt and half the lime juice and let it sit for 20 minutes.
2. Combine the ginger, garlic, ¼ cup yogurt, remaining lime juice and oil in a blender cup and blend until smooth.
3. In a large bowl combine the ginger and garlic paste, remaining yogurt and spices and mix until smooth.
4. Rub over the chicken and marinate for a minimum of 4 hours and up to 24 hours in the refrigerator.
5. Cook on a moderate hot grill for 6-8 minutes on each side.
6. Serve on a platter with lime wedges.
Beef Bourguinon a la Hassan
Created By Chef Floyd Cardoz
6-8 portions
Ingredients: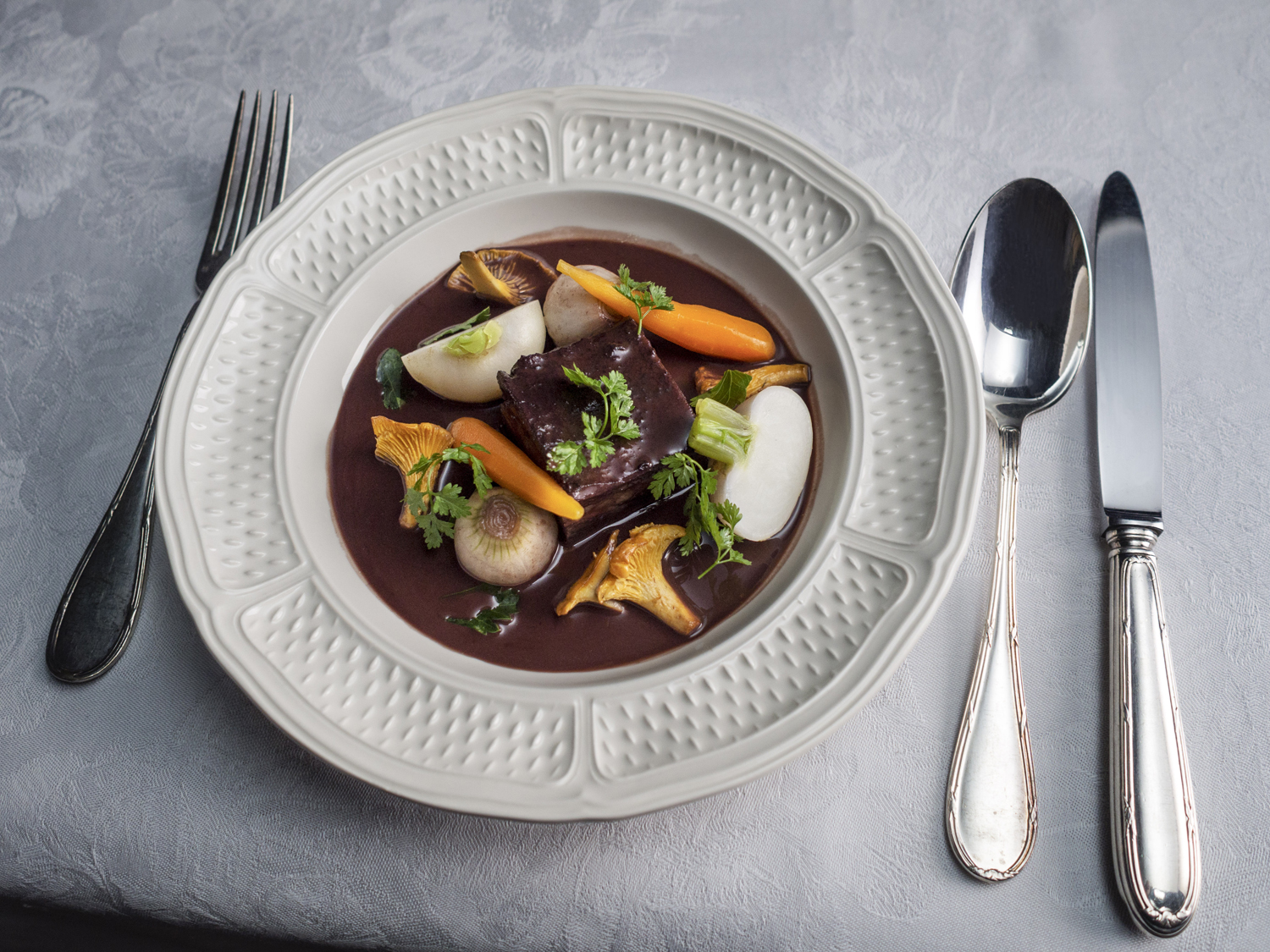 4 tablespoons Canola oil
2 ½ lbs boneless short ribs of beef fat removed and cut into 1 ½ x 1 ½ inch pieces
Salt and pepper
¾ cup AP flour
6 ounces apple wood smoked bacon, cut into 1/4-inch pieces
2 tablespoons butter
4 cloves tied in a string
2 bay leaves
18 small pearl onions peeled
18 baby carrots, peeled and cut into half if longer than 2 inches otherwise kept whole
18 baby turnips, peeled and cut into halfs
½ pound chanterelles mushrooms, cleaned trimmed and cut in half
2 onions, diced
1 garlic head, cloves separated, peeled, and chopped
1½ tablespoons fresh root ginger minced
1 tablespoon freshly ground cumin
1 tablespoon ground brown mustard seed
2 tablespoons tomato paste
1/2 teaspoon black pepper freshly ground
½ tablespoon Aleppo pepper
1 (750-ml) bottle red Burgundy wine
1 Quart white beef stock
4 sprigs thyme
2 tablespoons brown sugar
For garnish:
¼ cup parsley
¼ cup chervil picked
Method:
1. Pre heat oven to 325 degrees F.
2. Season the beef with salt and pepper and lightly coat with the flour keep at room temperature for 30 minutes. Reserve extra flour.
3. Place a large stew pot over moderate heat and add the bacon and canola oil. Cook until fat is rendered. Remove bacon.
4. In the same pot sear the short ribs until lightly colored. Take care not to burn the pan.
5. Remove the beef and add the pearl onions cook for 2-3 minutes. Remove the onions and reserve
6. Repeat this process with the carrots and turnips.
7. Add the chanterelles and sauté for 1 minute, remove and reserve.
8. Add the butter to the left over oil and add the cloves, bay leaf and cook for 1 minute. Add minced onion, garlic and ginger cook for 4-5 minutes until transparent.
9. Add the ground spice and cook for 2 minutes more. Add the left over flour and the tomato paste and cook for 2 minutes.
10. Deglaze with the wine and bring to a boil add the beef stock and bring up to a boil.
11. Add the bacon and the short ribs to the pan. Bring up to a boil reduce heat. Add thyme. Season with salt and pepper.
12. Place the pot in the oven and cook approximately 2 to 2 ½ hours.
13. Add the carrots, turnips and the pearl onions. Cook for 30 minutes more.
14. Take out of oven add sugar and remove clove, thyme and bay leaves. Add the chanterelles. Re-season with salt.
15. At this time the stew should be not as saucy and a bit thicker.
16. Garnish with picked parsley and chervil. Serve.
17. This stew tastes better the next day.
Lisa Dinsmore is a writer, web programmer and wine lover. She shares her passion for all things vino at www.dailywinedispatch.com.
Recipes and photos courtesy of DreamWorks Pictures.