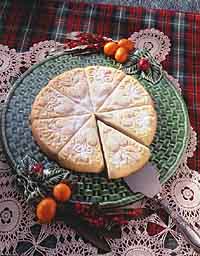 Shortbread is simply the most delicious biscuit ever conceived by mankind (though I suspect womankind had more to do with it!).
It would be blasphemy to call shortbread a "cookie". It is, truly, a BISCUIT!
As with all simple things, it is NOT easy to make, so I suggest you try this out on yourself or the family before you present it at afternoon tea to strangers.
Here is my Mother's recipe (I can not refer to that sainted lady and not capitalize - sorry, America!)
BARBARA'S BASIC SCOTTISH SHORTBREAD
Ingredients
All-purpose flour, castor sugar, sweet butter, in the ratios 8:2:4, or 4:1:2 - Mom's recipe quotes ounces.
Method
Knead butter, sugar and half the flour into a dough using your fingertips.(Food processors, no matter HOW sophisticated, cannot do this properly).
Sift the rest of the flour onto a marble slab, and knead it gradually into the dough. Any baking board will do, but marble just does something special to dough.
There are those who say the dough should not be kneaded very long, so that the shortbread is "shorter" or crisper; this is nonsense. The finished product SHOULD have a slightly dense, but still yielding, texture.
So...knead away for as long as you wish. Then roll out QUICKLY, or mold with your hands, into rectangles about 5"x8"x1/2", prick all over with a fork, transfer to a baking sheet,and pop into a moderate oven for 45 minutes or so.
Shortbread should NEVER be brown, but pale. If you need to, toast off in a very slow oven. Trim off the uneven sides, cut the rectangle(s) into fingers, sprinkle, while still warm, with more caster sugar. (I think the sides, eaten while still warm, are the very finest part of the shortbread!)
VARIATIONS
Replace 2 parts of the flour with rice flour or cornflour.
Form a circular shape in a baking tin, and cut into petticoat tails - frowned upon my purists and male chauvinist pigs.
Add a little vanilla essence - this is pure heresy. If anyone asks, I didn't tell you.
Add more butter for even more delicious flavor, and maybe even multiple orgasms. The biscuit will be more crumbly, too. Store in an airtight tin, if there is any left over; and warm in a slow oven before serving.
Adjust the sugar content to taste. SOME sugar is necessary, but using Stevia can reduce the quantity sucrose in you recipe.