by Alison Wonderland Tucker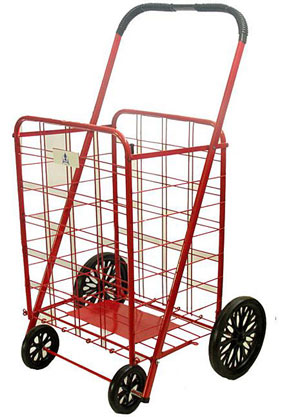 I set my tool bag down, tip my granny cart back to its resting position, brush the city off my face, and ring the bell. It is two hours before the guests arrive. My client opens the door, clearly grateful that I do exist - that I did show up - and studies me for a second. I always wonder what image they had of me after only chatting with me on the phone or email. I bet it's very different than my grinning, artistic, fake-redheaded appearance. Were they thinking gorgeous Giada would arrive? Or, god forbid, some female version of Chef Curtis Stone?
I bet the granny cart throws them for a sec - because it seems like there should be a higher form of transportation for a professional chef and caterer. I'd like to be effortlessly wheeling a stainless steel fridge into their apartment, but New York elevators being what they are… my granny cart is the only way to go. They show me into the kitchen and I survey the immaculate area. Oh, this poor little room doesn't even know what's about to hit it. I thank my client, pull a few bags from my cart, and crank the oven on full blast. It's go time.
The menu for this cocktail party is a progressive pass, which means that, while all the apps are easily eaten while standing, they will become more and more filling as the evening progresses. We'll start the pass with something light, like a bruschetta with drunken fig paste, fresh ricotta, and red pepper flakes; or nori handrolls filled with an edamame, spring pea puree and topped with avocado mousse and pickled ginger.
A little while later, we'll add into the pass the warmer choices, like hazelnut crusted chicken with a mirin, mint sauce; or prosciutto wrapped shrimp with honey garlic dip. The menu continues to expand with tuna tartare, wild mushroom tartlets, and beef tenderloin crostini with horseradish cream. The climax of the savory food pass is slow-braised beef short ribs over creamy polenta in single serving ramekins.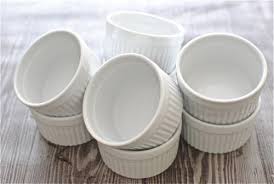 It's a stunning sight to see my waiters exit the kitchen with silver trays full of steaming forked ramekins, especially when guests thought they'd seen all the food for the night. The entire pass will take hours and gives people great food to drink and chat on without getting too full or too distracted. I normally offer 8-10 different options out of hundreds of choices so my clients get exactly what they're looking for.
I get my stations set up – this side for hot apps, that side for cold. I break out the cutting boards, set up the trash bags, and pull my serving platters from their bubble wrap packing. My sous chef arrives. We sauté and sear and chiffonade and the space we consume in the kitchen shifts. The room gets bigger without changing dimensions. The counters are full; pans with hot oil are crackling on the stovetop - ready to fry whatever we toss in them; the air is salty and sweet. What was an unsullied room whose main job was boiling water for green tea or toasting a slice of gluten free artisan bread, has become a multifaceted work station. The client walks by the open kitchen and looks nervous for a second. I'm used to this look. It's the same every time- the knitted eyebrows conveying, "Oh my god, my pristine kitchen. I hope she knows what she's doing."
I grin widely. Yup, I know exactly what the fuck I'm doing.
I stagger my floor and bar staff to arrive an hour after I do. The client anxiously asks "So, um, when's the, um, bartender coming???" and I doubt myself for a millisecond. But when they show up 20 minutes later, they're all business; getting the bar ready, the rented glasses and plates set up, and the serving trays ornamented with flowers. In the kitchen, we clean the counters and line up our mis en place. The kitchen changes has changed again. It knows things now. It has, with a little help, transformed ingredients into delicacies. My staff and I go over the menu and the progression and I have a moment of total clarity and confidence. We know what we're doing. At that point, I've been cooking for a solid 13 hours but I feel fine. I know that I've done the best I could. I can't even remember what's on the menu for that second, but I just let go. I breathe and put faith in the process. We'll figure it out. We always do.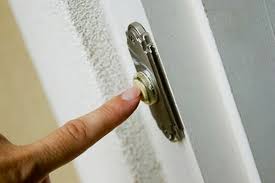 The doorbells rings.
The first guest arrives.
These tartlets are such a big hit every time I serve them that I don't know why I don't recommend them more often. I love mushrooms because, just on their own their earthy flavor and texture would be enough. But they are also so good at melding with other flavors, in this case - making up an entirely new taste combination of woodsy, boozy, cheesy goodness.
I make sure to roll the puff pastry out on a floured board and cut the pastry into 2 inch squares before baking them off. Rolling the dough out makes them more crunchy and light than puffy. The small size has people begging for more.
And, just for the record, at the end of the night, my client, giddy with success and fancy cocktails, grabbed me. "You ROCKED it tonight! Everyone wanted your number! You were like the friggin' prom queen!!!"
And I gotta tell you, it feels pretty good to finally be the prom queen. Pretty good indeed.
Wild Mushroom Tartlets
1 sheet frozen puff pastry, thawed
flour for your board
1 ounce dried porcini mushrooms
1 tablespoon olive oil
2 tablespoons butter
1 shallot, minced
salt to taste
1/2 pound baby bella mushrooms, sliced
1/2 pound combination of shiitake, woodear, morel, chanterelle, etc (the combination of any one of these mushrooms will result in a fantastic tartlet so you can experiment without breaking the bank – some wild mushrooms can be very expensive)
1 tablespoon fresh thyme leaves
3 tablespoons brandy
1/4 cup chopped parsley
1/3 cup cream
1/2 pound gruyere cheese, grated
Preheat the oven to 425 degrees F.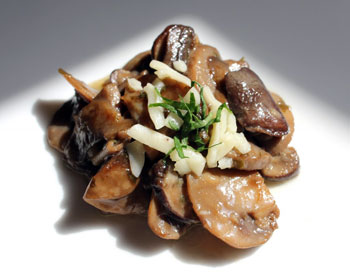 Flour a clean surface and roll the puff pastry out to flatten it about 1/8 inch more. You will only need to roll a couple times over the dough. This process takes a lot of the extra poof out of the puff pastry, making it a lovely, slightly poofy cracker for the tartlets.
Cut the dough into 2 inch squares, place on a baking sheet, and bake for 5-10 minutes, or until they begin to brown and crisp up.
Soak the porcini mushrooms in very hot water for about 30 minutes. Drain over cheesecloth or coffee filter into a bowl to save the soaking liquid.
Heat the oil and butter in a large saute pan. Add the shallots and a dash of salt and saute until the shallots have softened, about 1-2 minutes. Add half the mushrooms and saute for a few minutes until the mushrooms have released their juices. Add the second half of the mushrooms and continue to saute. Stir in the thyme leaves. Simmer for 7- 10 minutes, letting the juices release from the mushrooms and then start to reabsorb.
Stir in the brandy and let simmer for 1-2 minutes. Stir in the parsley, the cream and the grated cheese.
Place on puff pastry tartlets, sprinkle a little more cheese on top, and enjoy.
Alison Wonderland Tucker is a chef and caterer who lives and works in New York City. She writes about her love of food and life as a chef on her blog A Wonderland of Words.