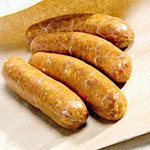 More than thirty years ago I met John Takach, a retired small bluecollar bar and restaurant owner from Cleveland visiting his doctor son in Maine. He was rumored to be a gruff, remote  man so I was nervous. It was a beautiful warm August day when he arrived with his heavy vintage suitcase. After introducing myself and telling him how I had been looking forward to meeting him he looked at me and said, let's cook, I have much to teach you!
We were instant friends, as we picked cucumbers and told stories. That day is burned in my mind, we talked about the story of his life and love that he insisted on sharing with me. We chopped and sautéed and talked about life in the old country and coming to America. That night there was to be a gathering at his son's house and we were expected to make a real Hungarian feast. He had brought along many brown wrapped packages filled with smoked hunks of fat, loops of freshly made sausages, good Hungarian paprika, and a special jug of Whiskey.
We started with pickles, John style, standing the cucumbers on end, we filled a crock , layered lots of dill weed and dozens of peeled garlic and then another layer of cucumbers laid on end.  We made a salt and water brine, I asked how much salt and he stared at me, keep adding salt until an egg floats and then it is ready. Pour over the pickles, cover and place in the sun for 2-3 days until they smell like pickles.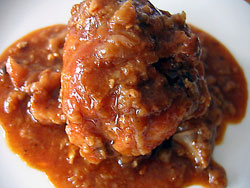 Next we made Chicken Paprikash. Chopping two chicken into serving pieces, dusting them with flour and browning in oil till golden. We removed the chicken pieces as they were ready and sautéed onions, lots of onions in the oil. When they became translucent we added 3 or 4 tablespoons sweet Hungarian paprika, a chopped green pepper, a little chopped canned tomatoes, some water and then add the chicken back in and simmered gently for 45 minutes.
Remove the chicken pieces and thicken the sauce with 3 tablespons flour mixed into a cup of sour cream, off the heat. I add some hot sauce into the flour/sour cream mixture, combine well and add back into the pot with a whisk, this keeps the sauce from curdling. Combine well and add the chicken back in to the pot. Spoon the thickened sauce over the chicken and keep warm till the noodles are done. This is were magic takes over, simple ingredients that together make something simply incredible!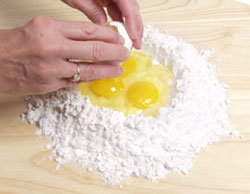 Combine 2 1/2 cup flour, 1 teaspoon salt, make a well in the flour and add 3 whole farm fresh eggs, beat the eggs and slowly bring the walls of flour into the well,  slowly combining to avoid lumps. When all combined add cold water to thin the dough out, about a 1/2 cup. Thick enough to be a pliable dough but not a dry dough. Let it rest for 30 minutes to relax the gluten so your noodles/spatzle will not be heavy. This is an important step.
Fill a large pasta  pot with water and bring to a rolling boil and add a tablespoon of salt. Wet a wooden cutting board with cold water, dump half of the batter onto the board, take a large french knife, turn it upside down and with the dull side cut long pieces of batter not wider than 1/2 inch and no longer then 3 inches, scrap them to the edge of the cutting board and let them fall into the boiling water. Do two batches, don't crowd the water. They are done when they float, removed with a slotted spoon and drizzle with butter so they don't clump together, keep warm while you make the second batch. When all the noodle are done combine with the waiting chicken and cover well with sauce. Serve with a sliced cucumber salad with a dressing of sugar, white vinegar and paprika.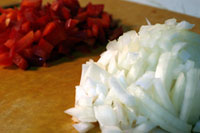 We next chopped equal amounts of tomatoes, green peppers and onions in a bowl. I followed John out the door and into the woods, running to keep up with his fast mid seventy-year-old gait. He stopped at a small maple sapling, took his hunting knife out and cut the tree into a 4 foot length and then sharpened the end to look like a spear.
I asked nothing, I just watch at his intense stare, he was off in another direction for two more sapling spears. Good, he said, done. We went back to the cottage and he opened a big brown paper package from his suitcase, there was a huge piece of belly fat, not just any kind of fat, smoked pork fat that his friend had made in his garage.
He skillfully cut it into 3 by 5 inch chunks that were at least 3 inch thick. This he threaded onto the maple spears. What could be next, I thought. He went outside and gathered dropped branches in the yard and started a fire and then added big chucks of wood and just let the whole thing burn down until it glowed with perfect coals. He took platters and laid out rye bread and off he went with the speared smoked fat. Slowly heating the fat so it rendered its essence but didn't burn or catch on fire. Patience, he said is the key. He piled the vegetables onto the bread and dripped the pork fat over all this. What a feast that we cooked all day, and the story of his life was the food that he shared.  The guests ate everything and even emptied the jug of Whiskey, dancing  to Polka records.