by Carla Christofferson & Kathy Goodman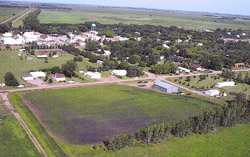 Tolna, North Dakota ­ a town of 240 people. Spending time there during the centennial of the town reminded me of the essential nature of the state, which permeates the life, the politics, and the cuisine.
The entire weekend consisted of food that started in the freezer and beer. ­ Seriously, nothing says North Dakota like a cooler full of Busch Lite in the back of the pickup in the parking lot of the demolition derby – except maybe if the beer is coupled with a Red Baron pizza.

There are no modern politics in North Dakota ­it is still a state that is dealing with the fact that the United States became urbanized in the first decades of the 20th Century. North Dakota retains the topography, population, demographics and values of the America we all think we remember; the one celebrated on Main Street USA in Disneyland (where they serve corn dogs) and captured in Norman Rockwell Saturday Evening Post covers. But with a difference ­ if you want to burn down your family house in North Dakota, just make sure you provide beer for the volunteer fire department.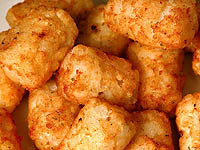 Like the values, the food has not come of age either ­ it is good old fashioned food, either invented or popularized (or both) in the pre-Vietnam, pre-Watergate 1950s, when we had a space race and an uncomplicated faith in our own world supremacy.
It may be the 21st century in the rest of the world, but North Dakota still embraces tater tots, a jello mold with mini-marshmallows, a salad made from iceberg lettuce with red sauce referred to (seemingly in mockery of haute cuisine) as "French dressing", and "barbecues", a sandwich called a "sloppy joe" in the rest of the country. And that is okay -- for a weekend.
Carla Christofferson and Kathy Goodman are the owners of the WBA franchise, the L.A. Sparks. Carla was also crowned Ms. North Dakota in 1989.