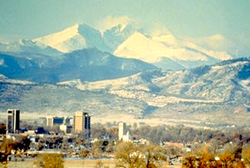 I wish I could say my priorities are straight at this point in my life. I thought they were when I recently cashed out of Hollywood and moved to a smaller, simpler existence in Fort Collins, Colorado so my daughter could be closer to our family.
Among the multitude of things I had on my endless "to do" list once we arrived, was to register as a democrat so my vote would count in what was clearly looking like a history-making primary. But, if I am truly honest, what consumed me way more than politics or extended family time was where to get my roots done to my exacting standard. After all, I had exactly one month before I would look scary, but several months to register, and the rest of our lives to spend family time.

On the political front, I happened to attend the New West Fest, the weekend I arrived, where an earnest, attractive young guy was handing out forms to register Democrats. Wow…kismet for me…not the guy, but the registration form. I happily filled it out and handed it back to him, only to be told that he wasn't allowed to take the forms, just distribute them. I had to give it to the registrar, or maybe to the Democratic Headquarters. He wasn't sure. But, he had a killer smile and was politically active to boot, so I smiled back reassuringly and didn't show my annoyance that I couldn't check this off my list yet.

On the family front, my parents kept asking me to meet them for lunch at places that I would normally not set foot in…yes, I am a food snob, and after many visits to Fort Collins, I'd already faced the fact that this love would have to be satisfied when I traveled.
Though I won't embarrass my parents by naming most of the places they tried to tempt me with, there was one place that they ate at religiously every Tuesday, Avogadro's. They urged me to meet them there for a Tempeh burger and a large glass of cranberry juice. Tempeh is a fermented whole soybean product that is different than tofu in that it is firmer and more flavorful, but also considered a meat substitute. Tuesday is known as "Tempeh Tuesday," and burgers are 2 for the price of 1. Just who was going to eat the fourth one if I took them up on their offer was never clear to me, but the proposed menu, a veggie burger and a glass of juice that I usually consider medicinal, didn't sound that enticing so I told them I'd be happy to meet them there when I was a little further along on that "to do" list.

More importantly, I frantically searched for a place in town that would do my roots with the formula and products from my colorist (she has been my colorist since my late twenties so you get just how wrenching a separation this was.) Most colorists, it seems, are trained only in the products used at the salon they work at and so far, no one seemed to feel confident enough to deviate.

Another Tuesday morning dawned and I knew that shortly the phone would ring and it would be my hopeful mom calling to see if this would be the Tuesday I would sample a tempeh burger with them. I didn't really want to throw cold water in her face, but I just didn't want to go…particularly because they usually eat lunch at about 11:30am and I'm just not ready for a burger, or lunch for that matter, so early. Just as I was thinking that maybe the solution to Tempeh Tuesday and my root problem was to dye my hair blue and embrace the early crowd, the phone rang. My mom sounded particularly hopeful that morning and I heard myself agreeing to meet them. I skipped breakfast so that I might actually be hungry for lunch and off I went. Because I was running a little late, a cardinal sin in my father's book, I parked in a tiny strip mall across the street, rather than drive around the block again looking for a space.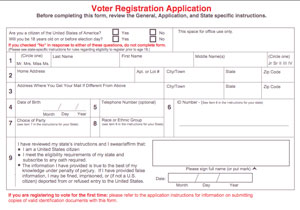 And, it turned out that the real kismet was meeting them for tempeh burgers…the strip mall I was illegally parked in, turned out to house the tiny store front office of the Larimer County Democratic Headquarters. I was still driving around with that damned registration form in my car, almost one month after having filled it out. As I exited the office (they couldn't accept it but they had the registrar office address handy and happily gave it to me along with an envelope and a stamp) my eye was drawn to another small storefront next door…a hair salon. No, it would be too good to be true.

I marched in, told my sad story about leaving my LA colorist but having my formula and products in a little farewell packet from her..., Success. Not one but two colorists were willing to help. I left with an appointment for the next day, thank God!

My roots turned out okay for a first try. Not perfection, but okay…a work in progress. Oh, and the tempeh burger was actually delicious. I passed on the cranberry juice, though. The fourth burger seemed like it was for Elijah because it sat on the table in its little Styrofoam "to go" box, but I'm sure my Dad heated it up and ate it for dinner.
Avogadro's
605 S. Mason
Ft. Collins, CO
970.493.5555
Lisa Demberg recently relocated to Colorado with her eight year old daughter Olivia. She is a television executive and producer, presently employed as a consultant to Fox Television Studios.