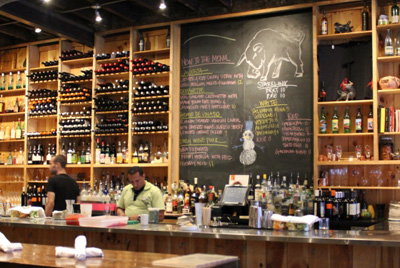 Officially, it is Toro by Ken Oringer. He has Clio at the Eliot Hotel. He created Uni inside Clio in 2002. Toro opened in 2005, which was followed by La Verdad at Fenway in 2007. Coppa, in 2009, is nearby on Shawmut Ave. We're thrilled to score lunch. Add Toro to our short list of South End settings that becomes even more attractive at noon when there's no wait and the parking is easy. The patio fronts on Washington Street and of course, the outside tables are full.
Inside, we count six chefs in the open kitchen. As always, the bartenders are charming. Bar shelves to the ceiling are solid and lucky for you, the bar has no mirrors. Otherwise, you'll see yourself slumping on a bar seat and there's not a thing you can do about it because the seats have no backs. Seriously, guys, no backs?
We start with pan con tomate, Catalana rustic toast with fresh tomatoes, oil and garlic. For boquerones, marinated fresh anchovies with lemon, vinegar, chives and hot peppers, we favor the plain toast. There is something stunning about them. Fresh anchovies are nothing like the powerful version you get from a can or a tube of paste. Like canned tuna and sushi tuna - both good but very different. I've seen fresh ones at Whole Foods and next time I'll buy some because they're great with beer. I try never to look them in the eye.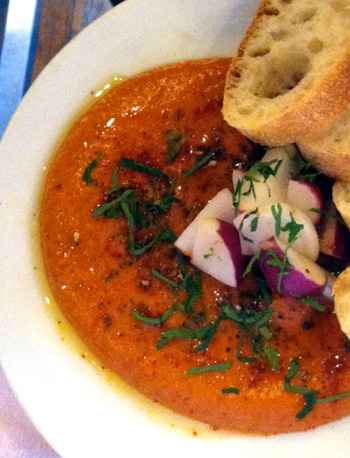 Next is escalivada Catalana, smooth smoky eggplant, onions, peppers and tomatoes. Julie: "I could make a meal of this." I stay out of her way and so does everyone else after she gets up on a bar stool to shoot Jamie Bissonnette's 2011 Best New Chef Award frying pan. Our bartender sends over pato con membrillo, smoked duck legs in a fine quince glaze.
Julie orders hummus with roasted red pepper, radishes, chickpea purée and za'atar, an Arabic condiment with herbs, sesame and salt. And even on a tapas menu there's a burger, cleverly disguised as hamburguesa. Since I pass on queso and pickled onions, I miss that impact but it stands fine on its own. All in all, it's an ambitious lunch with small bites, hot and cold tapas, sandwiches, salads and paella. This day they are out of dessert, churros, which makes us sad: fried dough with cinammon and sugar, to be dipped in chocolate sauce. Really sad.
We're partial to friendly bars. We chat with Eric, a regular who lives around the corner. He recommends the foie gras and tells us, among other things, that he brings his mother here. (What do you do with a mother reference?) We look, like old?
The comprehensive wine list is Spanish, but for the ones on tap Julie likes Austrian Grüner Veltliner. There's sherry, cider and cocktails. Beers include Tecate Lager from Mexico, Spanish Estella Damm Inedit, and Hitachino Nest white ale from Japan. The bartender says they make calimochos, which call for cola and red wine, as well as Tintos de verano that start with red wine and finish with Sprite or 7-Up. Apparently you can substitute orange soda for the 7-Up.
Lunch is Monday-Friday; there's brunch Sunday along with dinner every night. If you're alone, grab a seat at the communal tables. Not surprisingly, chef/owner Jamie Bissonnette got a James Beard Foundation nomination this year for Best Chef Northeast: Olé.
Toro
1704 Washington St (South End)
Boston, MA 02118
617. 536. 4300
Kitty Kaufman is a Boston writer with Corporate Edge. You can see more of her food adventures here: Let's Eat @ Corporate Edge