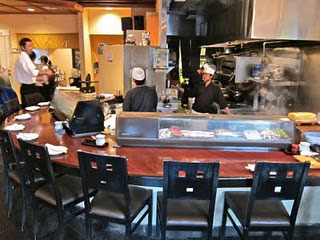 Living in Southern California, we enjoy rich ethnic diversity. Those of us who explore culture through cuisine are very happy about that. Located in West Los Angeles, Yabu, which has a devoted following and is a good example of a neighborhood Japanese restaurant. Because Yabu has a much larger, sister restaurant in West Hollywood, when you call to make a reservation, you will be asked to confirm that you want to eat at the Pico restaurant.
You do.
There are lots of chain restaurants with Japanese names, but Yabu's kitchen prepares authentic Japanese comfort food. Serving lunch (Mon.-Sat.) and dinner (Mon.-Sun.), the restaurant is perfect to drop in for a quick bite at the sushi bar or with family and friends to hang out at one of the tables tucked into the corners of the room. Order cups of hot green tea, ice cold bottles of Japanese beers or hot (or cold) sake and try out new dishes as you enjoy easy conversation and good food.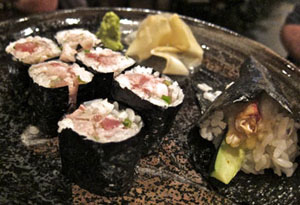 The sushi selections are always fresh and made with precision. Affordable—unless you go crazy—sushi and sashimi can be ordered individually or as combination platters. The beef tataki, a Japanese version of carpaccio, and the albacore tuna tataki are especially tasty and the ponzu dressing is spicy enough to bring out the best of both. In no particular order, here are some favorites: fried tofu, stir-fried lotus root (kimpira renkon), edamame, eggplant, seaweed salad, miso soup, shishito green peppers, broiled salmon and soboro don (finely minced chicken cooked in a ginger soy sauce with a bit of heat and served over donburi rice).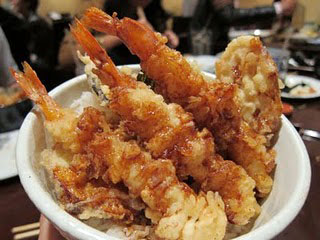 Come at lunch and try the combination of noodle soup (soba or udon) and sushi. Affordable and freshly made, the soup is light and flavorful, the noodles chewy and delicious. One of my favorites is the tempura udon in a big bowl of soup. Ask for the vegetable and shrimp tempura on the side so they stay crisp and crunchy. Yabu's tempura may be some of the best in Los Angeles. Light and fresh tasting, the shrimp, seaweed square, lotus root and sweet potato have their flavors enhanced, not overwhelmed, by the batter. Everyone has his or her favorite sushi; mine are tamago (egg), baked crab in a hand roll (on the dinner specials menu) and spicy tuna.
For a small restaurant with a kitchen about the size of a Mini Cooper, you'll be surprised at the plentiful menu. Make reservations by calling 310-473-9757 and be sure to mention you want to dine at the Pico location. Valet parking is available. Pay in cash and receive a 10 percent discount.
YABU
11820 W. Pico Blvd.
Los Angeles CA 90064
Tel. 310.473.9757
David Latt is an Emmy-award winning television producer who turns to cooking to alleviate stress. He shares his experiences with food and his favorite recipes on his blog Men Who Like To Cook.