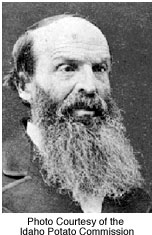 Idaho's first potato grower was not a farmer at all, but a Presbyterian missionary, Henry Harmon Spalding. Had he been seeking a life in Idaho as a farmer, the chances are good that he would have found land more suitable to agriculture rather than the locale at Lapwai where he established his mission in 1836 to bring Christianity to the Nez Perce Indians. His plan was to demonstrate to the Nez Perce that they could provide food for themselves through agriculture rather than hunting and gathering.
In 1837 the buffalo herds were beginning to be depleted by market hunting and encroachment on their natural domain. Spalding was astute enough to see that the lifestyle of the Indians was changing and that they would soon need other sources of food. By offering to teach them how to raise agricultural crops, he added an additional benefit to the white man's religion that helped gather the Nez Perce around his Lapwai mission.

Historian Clifford Merrill Drury described the Lapwai location as follows: "The Nez Perce had chosen a site for a mission station on the Lapwai Creek, which empties into the Kooskoosky or Clearwater about ten miles above the mouth of the Clearwater. As the party went up along the banks of the Clearwater, Spalding's heart grew heavier and heavier. He wanted a broad flat plain for farming purposes. And there along the Clearwater, the hills rose to an elevation of about 2,700 feet on either side, and crowded down upon the river. How could one farm there?"