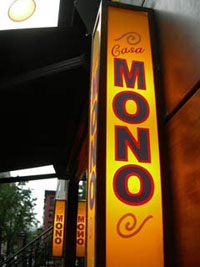 I have yet to go on a date in New York without breaking into a mental sweat. When scouting for potential mates, I have learned pretentious is better than shallow, irritatingly intelligent better than vapid. But every time I find myself two blocks away from any appointed date destination, panic ensues. I literally go through the syllabi of every course I can remember from NYU and every legitimate news article I have come across in recent memory. A friend of mine once told me she discovered the best conversation starters from a semester seminar she took called 'The Darwinian Revolution.' To this day, I regret not enrolling in that class. I could be married by now.
Recently, I went on a second date at Casa Mono in Gramercy Park with a screenwriter. As we sat at the crowded bar, reviewing the tapas menu, all I could think of was the impending birth of the "Brangelina" twins. As of late, my awareness of the US housing and financial crisis and the discussion of democratic VP prospects has been put on pause from 9 to 5. I just started my first post-collegiate job working for a celebrity news site, and needless to say, I have been focusing on the Jolie-Pitt 'situation' in Nice for days. But if I mentioned my extensive knowledge of said topic to my date, the mere thought of date number three would become something of a pipe dream.
My only saving grace was to prolong the ordering process as long as possible. To my date, I appeared to be studying the "Dorada with artichokes and gazpacho verde" and "Duck egg with mojama" with more intensive scrutiny than Frank Bruni could muster. In reality, my mind was stuck…on Christy Brinkley's divorce settlement. Surely he had to have an opinion about the moral repugnancy of the supermodel's late husband Peter Cook. On the other, more probable hand, he might not even be familiar with Mr. Cook, or the scandal ridden deterioration of his marriage played out for all eyes to see in a Suffolk county courtroom.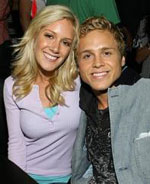 Heidi & Spencer
Just as I was about succumb to an inevitable defeat, say a final farewell to my date, and begin my grad school applications as soon as possible, two fellow trash talking diners came to my aid. An indiscreet brunette adjacent to me turned to her friend and demanded, "Did you read that Heidi Montag had lunch at the Ivy with Megan McCain?", which was soon met with the immediate response of "Yes…another Montag staged photo op sans shock! Spencer Pratt." I didn't know what the proper reaction to this remark would look like, so I shoved a piece of skirt steak in my mouth and began to chew….slowly.
Of course I knew what the remark meant. It was referring to the MTV reality show 'The Hills,' and its star blonde sociopath couple, who have come to be affectionately known as 'Speidi'. If my date wanted to discuss the unctuous couple and their laughable, but rather genius attempts to find fame, including the launch of 'Heidiwood' the clothing line and Spencer's multiple figure deal to pose for an upcoming issue of Playgirl, I would no doubt work my way deep into his heart.
When it came time to swallow the bloody bite of skirt steak, I turned to face him and was met with a casual smirk. He began to chuckle sort of gently and said, "Sadly, I think I've seen every episode of the Hills. It just might be the most brilliant, intoxicating show on tv. Don't judge me." I knew this one was a keeper. Within those two uttered sentences, I could picture our future. We could feed our indulgent appetites through great food…and great gossip. When you really sit down to think about it, the two go hand in hand.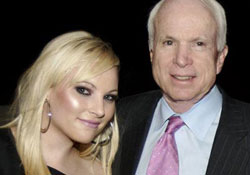 After that Tuesday night date, which can really be called a breakthrough in my dating history, I was sitting at my desk a couple of days later and had a few moments to read Time Magazine online. In a question posed by Anna Marie Cox referring to Montag's endorsement of McCain in Us Weekly, McCain responded "I'm honored to have Heidi's support, and I want to assure her that I never miss an episode of the Hills, especially since the new season started." When I read this, with both disdain and amusement, I knew my days of condemning people for superficial, 'celeb' filled dinner conversations, were over. And, I had a topic for my sushi date Friday night.
Casa Mono
52 Irving Place
(between 17th St & 18th St)
New York, NY 10003
(212) 253-2773
also published on The Huffington Post

Hope Stranger is the creative manager for www.celebrifantasy.com. She lives in New York City.