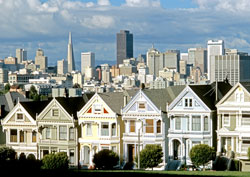 It's so darn good to get awaaaay. I'm bored with the predictable patterns of my home life: my constant computer, my cooking, my own backyard. My brain craves novelty, my tongue new tastes, my eyes new vistas, but my complacency wants it all to come easy--so good to have work in the Bay Area of Northern California.

How auspicious that American made my Alaska Airlines flight disappear so I was forced to discover Virgin America—a mishap that reminded me of how much I used to LOVE to fly. The moment I went to the ticket window, where the desks are invitingly low, the ticket sellers sympathetic, and the platform weighing your checked (free) bag at ground level so you don't have to heave it high, I felt soothed. And once I boarded the plane, the lighting massaged my eyeballs and felt far more flattering than the overhead glare of most terrorist scaring flights. Thinking I look good as I parade in a pinkish purplish glow past the first class flyers always puts me in better spirits sitting in coach.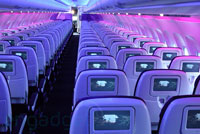 Which was significantly roomier than most. Ha ha! I have never enjoyed the mandatory emergency instructions (in very hip, comedic animation on your personal high definition screen,) so much. And, the rich cabin colors, the erotically ergonomic seats, comfy even erect, the flight attendants with British accents, the vents blowing warm fresh breath on my face while I watched the oh so practical media system (called Red), felt well conceived. They have the perfectly sized water bottles for my pocket or purse, and when we landed at San Francisco Airport, I was so relaxed and engrossed in a "Daily Show" episode I was tempted to stay. "Hey, just leave me the keys—I'll lock up!"

San Francisco is so ridiculously beautiful. Every view, every hill, and especially every meal seems contrived to make one gasp. I feel fortunate to have lots of fantastic friends as an excuse to freeload, I mean visit, and with whom to share area eateries' finest foods. Gang style meals afford one much opportunity for wanton tasting. I had four days of work and five nights of meals with four groups of friends, well spent.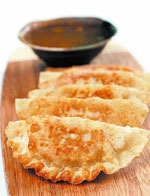 I started at Eliza's, en eclectic Asian eatery in Pacific Heights with a California credo. I think they hand blot all the fried food. Genius Media Man Gary had a three pepper shrimp dish with a time lag of an after kick—and clever kid Christian had the crab ragoon—pot stickers stuffed with crab and cream cheese inside a crispy crust—a killer combo. The place is also dynamically designed with glass sculptures and an airy high-ceilinged flow of spaces full of happy faces chewing.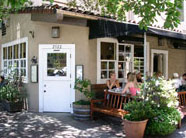 I was pleased to discover that the emphasis on aesthetically original still extends to San Francisco's hinterlands. Rick and Ann's across from the gorgeous Claremont Hotel in Berkeley served a wild salmon with basil pesto on roasted green vegetables to my publisher pal Karen and me in a space that's fun and funky, bright and friendly like the waiters. Steven and Kate lip smacked over their cheesy quesadillas whilst Wakeford ate macaroni and cheese. The place covers the ethnic and homemade comfort foods waterfront—all diverse fishes and foods served to my seven friends were varied, spun originally and successfully.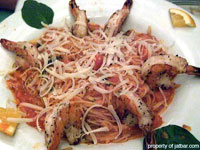 My comedienne friend Corinne retired to recently rehabilitated Redwood City—a well-planned town with a community that actually congregates in its gorgeous public spaces. Its Broadway stretch, with the popular Fox Theater, the seat studded, public square, and a fine restaurant on a tree lined block with outdoor seating called Vino Santo Bistro made me want to spend more time there. The bread is homemade -- a cool combination of crusty yet fluffy, and is served with a flavorful dip twice refilled by our enthusiastic waiter in the short time we waited.

Bill had a pasta with shrimp that he refused to share, but that was fine, since my battered calamari in lemon and white wine felt like it had been massaged into surrender. It wasn't tough, it wasn't fishy, it was perfectly prepared and swam down my throat so I ate too much not realizing I was actually swallowing.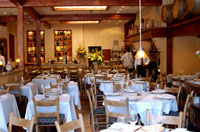 Palo Alto's home of haute Greek cuisine is Evvia—long may it reign. A welcoming floor to ceiling hearth hosts a large rustic room which the Stanford U. and Google gangs to fill with brain plasma. In its taverna atmosphere, folks laugh late into the night and feast on full plates. No skimpy portions here. David and I had the mesquite local lamb rib chops—they taste far from the usual New Zealand fare. Dainty Carol, multi-lettered psych professor, inhaled the fresh caught bass, which she disemboweled down to the eye and entrails. The avgolemono soup was perfect, as were the steamed bouquets of bitter greens. I saw some flaming saganaki cheese waft by and I can't wait to go again.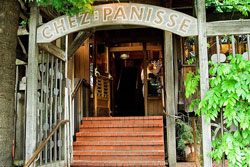 I'm a vegaholic. I can never get enough clean steamed greens, so at the piece-de-resistance Chez Panisse on Shattuck in Berkeley, I finally got my fill. The emphasis there is organic local veggies, meat is a side dish. I think it's sweet that all the greens get billing: Cannard Farm Rocket Salad; Blue Heron Farm Little Gems Lettuce. I hope to eat there often enough to discern the difference in these locally farmed lettuces, like a Napa wine connoisseur.

Karen and I had the buffalo filet (I love saying that—try it with me now, it's like a song refrain), Kate had the Soul Food Farms chicken leg, and Terry had a clam studded California flat pizza. Chez Panisse's Cafe makes grazing to chew one's cud such fun and far more reasonable than their downstairs emporium. And when the proud waitress presented a glass pitcher of spearmint tea for our finale, it reminded me I can return home to graze in my own herb gardens again. "I can do this, too!"

SPEARMINT TEA
Pluck large handfuls of spearmint leaves from the garden. Rinse liberally without crushing. Boil a quart of water, throw the leaves in and boil for 2 minutes. Let steep and serve in a glass pitcher so everyone can see how natural you are.