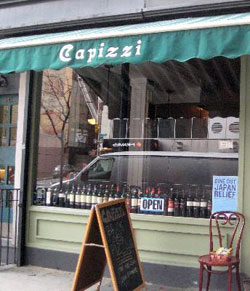 I've been in rehearsal this week for a reading we're doing on Friday.
It's a fun piece called "Old Jews Telling Jokes" based on the website of the same name. All this is to say that this week I'm a working man, a nine-to-fiver, so bye-bye to my indolent life. No time now for shopping at Eataly after my caffé macchiato with the crossword puzzle; no time for noodling away at the stove in the afternoon, sautéing pretty vegetables for Jill's dinner while hooked up to a Sangiovese drip. No. I'm a working man. Punch that clock.
But today I fell into one of those time warps that New York offers up when you have no particular place to go. I'm on my break; it's drizzling; I have an hour to kill. Our rehearsal hall is on Eighth Avenue in the high Thirties – a bit of garment district, a bit of spillover from Forty-Second Street — tons of places to eat and not one of them calling me. I walk in the rain over to Ninth Avenue, which never lets me down. Ninth Avenue is a Baghdad bazaar — good, bad and everything in the middle. I love Ninth Avenue. I walk past this little place with a menu board out front. It's called Capizzi, a little joint, sitting in the shadow of the Port Authority bus terminal. It's essentially empty, some people at a table in the back – maybe it's the staff having their lunch. It's 4:00 in the afternoon – the rush was over. But there's something; I walk by it three times; there's something about this place.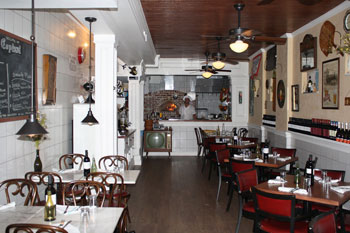 I go in and the first thing I see on the far wall is the wood-burning oven, which looks like a good one. In front of the oven is a tall counter that acts as a pass-through, and in front of that, on the floor, is an old freestanding TV, maybe from the early sixties with one of those ovoid screens.I learn later from the waitress, who hails from Napoli, by the way, that the TV doesn't work; she's never seen it work – except as a shelf to store bottles of olive oil with peperoncini for people who like some spice on their pizza.
I'm liking this place more and more. There's also an old fridge in the middle of the dining room that could be considered a collectible. The fridge, I'm told, still works.
"Prendo una pizza con salsicce e cipolle," I said to the waitress, "ed un quartino di vino rosso."
"Montepulciano o sangiovese?" she asked.
"Sangiovese."
Ah yes. That was me, using my impeccable Italian to order a pizza with sausage and onions and a quarter liter of red wine. She puts the order in and comes back to parlare a little bit in Italiano — she's from Napoli, but she's been here since she was in her teens; I tell her about our house in Umbria – that kind of thing. All in Italian. I know – I'm bragging.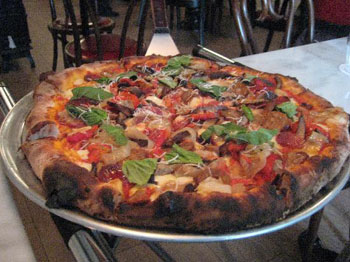 Then the pizza arrives and there's no more time for small talk.
Pizza is a simple thing that few people do right. You need a proper oven – one fired with wood that can sustain very high temperatures. You need the best ingredients, of course – the proper flour, the tomato sauce, the mozzarella, the toppings. And most important of all, you need to make a crust that has the right feeling in your mouth – no crumbly, crackery crap. You want a feel of chew; you want a bit of char; you want that yeasty aroma that releases when the dough hits the hot oven – earthy, alive, enticing – like … well.
Capizzi's crust hits the mark. It's like the pizza in Naples, but a little thicker – maybe because the owner – Joseph Calcagno – has his roots in Sicily. It's definitely thicker than Roman pizza. The edges puff up and char, which I like. It holds the toppings without falling apart, which I also like. Next time I'll try what they call the pizza della nonna – grandma's pizza – which is with San Marzano tomatoes, grated pecorino and parmigiano, olive oil – add anchovies and roasted garlic. Yeah, that's for next time.
Capizzi's – cash only.
Capizzi
547 9th Avenue, New York, NY 10018
(212) 695-6900
Michael Tucker is an actor and author whose third book is the recently published Family Meals: Coming Together to Care for an Aging Parent
. You can read more about his food adventures on his blog Notes from a Culinary Wasteland.