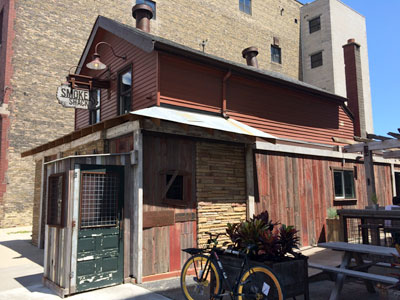 I am a planner. I never go on a trip without scoping out what there is to do and the best places to eat. We never do everything on the list, but I hate to be bored or to eat boring food. We aren't fancy, 4-star restaurant people, but we don't eat at chains either. Eating local is where it is always at. When we decided to head to Milwaukee to attend Summerfest, I had one restaurant on my "must-visit" list. Wisconsin is most well-known for their sausages and cheese, which are outstanding, but my first choice was The Smoke Shack. I know, the mid-West is not known for their BBQ, but the owners, Joe and Angie Sorge, spent time researching in the various renowned regions before they opened this joint in the spring of 2012.
It looks like the roadhouse-style building was picked up by a tornado in the South and dumped into the middle of Milwaukee. The place is tiny inside with only 47-seats, mostly communal, though it does have a fairly large patio, which was already filled at noon. They smoke all their meat onsite, sourcing locally and humanely-raised animals that are antibiotic and hormone-free. Coming from CA we decided to eat inside (it's always sunny where we live), because we just hate to wait. They do not take reservations and some of their items sell-out, so it's best to skip breakfast and just come here early. Just skip breakfast and make this your first meal of the day.
Unlike most BBQ joints, the Smoke Shack does not feature any one regional style. As much as I love smoked meat, I would not call myself an expert by any measure. I have been to Kansas City and am familiar with the Santa Maria-style (CA), but not to Texas or the Carolinas, so I have nothing to compare this experience too. However, I can say that I have never gobbled up so much meat, so quickly in my life.
Everything is dry-rubbed here. Because everyone has their favorite style, they provide all the different regional sauces on the table for you to mix and match to your own palate's delight. This is a great concept if you're sharing with a group, as we were, since some people can take the heat and other's (like myself) cannot. We had to start with the Candied Bacon, which was good, but I wish was a bit warmer. Am spoiled when it comes to this "delicacy" - we have a number of chef friends addicted to bacon - so I expected a bit more punch along with sweetness from this appetizer.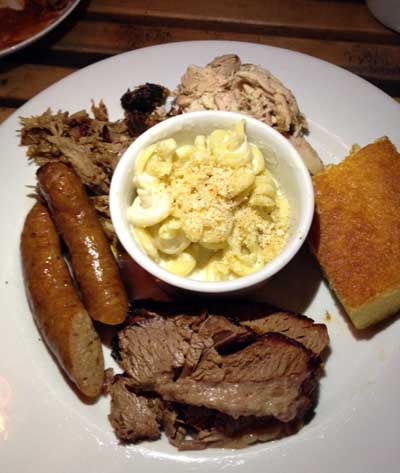 That being said, the Four Meat Combo was devoured so fast, with so much pleasure, we ordered a second version before we were even finished with the first. We had the 1/3 lb. Pulled Chicken, 1/4 lb. Sausage Link, 1/3 lb. Pulled Pork and the 1/4 lb. Brisket. Everything was super moist, fall-apart on your fork and in your mouth good. All delicious unadorned and even better with a little drizzle of sauce. I usually drench all my food with as much sauce as it can hold, but everything was so well-flavored I started slow and didn't have to add too much after. By California standards this would be more than enough meat to fully satisfy two people. Not sure most midwesterners would feel the same…
I am not the biggest fan of sausages - bacon rules! - but I have to give Milwaukee huge props for the most flavorful tubes of meat I have ever had. From the Bratwurst Burger at the Museum of Art to the links at the breakfast buffet in our hotel, to the one served here. Just wow! Packed with flavor, the Smoke House sausage had a spicy kick to it that was made even better with Carolina Mustard Sauce. There's a reason the town is renowned for their tubed meat and this visit made me a true believer. I added the sweet and smokey Kansas City-style sauce to the Pulled Pork and Pulled Chicken and the Texas BBQ tomato-based sauce to the melt-in-your-mouth, perfectly fatty Brisket. Had to try them all. OMG you have to get the brisket. A great mix of fat and meat that just melted together in perfect harmony. That was the hands down favorite of everyone at the table.
The meat was so good the sides became secondary. You get one with your combo plate and a nice range of choices at that. We ordered a few extra because we didn't think we were going to have a second full plate of meat. While we enjoyed the corn bread (moist and cake-like), mac n'cheese and creamy coleslaw, the meat really is the star. I liked that the cole slaw was made with red cabbage, which was a visual delight and it really helped break up the onslaught of meaty goodness lingering on your tongue. Mac n'cheese is one of my personal specialties, so I have a very high standard. This one was good, but being Wisconsin I just expected it to be more intensely cheesy. That didn't stop me from diving into the second bowl and eating more than my fair share. I liked that it was more creamy than clumpy, you just had to make sure to get the saucy goodness from the bottom of the bowl and the salty breadcrumb gremolata from the top.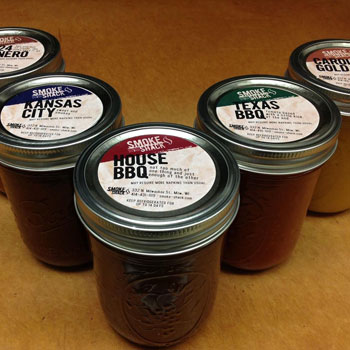 We arrived just past noon and the place was already packed, so beware that you may have to wait for a table and that the service, while pleasant, is not going to be super fast. Once our order was in, we got our food fairly quickly and the second platter arrived sooner than I expected it would. No need for us to slow down. They have a full bar and a very good selection of local beers, another Milwaukee staple. The wine list is a bit sad - just three whites and three reds - but that was not a surprise for a joint like this. That's not why you come here. I am not a beer or hard-liquor drinker, so I was just glad they had something.
We were in a meat coma by the end and though we struggled a bit, not a scrap was wasted, so no dessert for us. They have the usual selection of southern delights - seasonal fruit crumble, praline cake, pecan pie, bacon brownie. I was seriously intrigued by the Whiskey Ice Cream which they have exclusively made for them by a local company called the Purple Door. That will have to wait for next time.
While I loved the friendly, rustic, down-home vibe of the place - especially the Edison bulb lamps - it was soooo dark inside we had to use the Flashlight app on our iPhone to read the menu. That may be part of the "theme", but most people like to see what they're eating, so hopefully someone will turn the dial up a stitch. That said the music - all classic blues - was just right and at the perfect volume; high enough to enjoy, but not so loud that you had to shout to be heard by your companions.
Am not sure this is the best BBQ in Milwaukee - I have nothing to compare it too - but it certainly was the best meal of our trip. If I find myself back in the Brew City, I will be filling my belly here again...for sure.
SMOKE SHACK: 332 N Milwaukee St., Milwaukee, WI 53202 / 414.431.1119 / Open 7 days at 11am