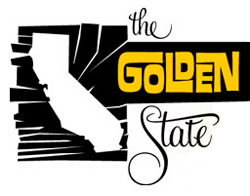 Two years ago, I made a decision that forever changed my dining experience. I stopped being friends with anyone who doesn't like to eat. Living in Los Angeles, the city of beautiful people, this wasn't an easy feat. But frankly, I was tired of sharing meals with the likes of someone who either pushed their food around their plate as if eating were a punishment, called themselves fat during the entire meal in their size zero glory, or deliriously eyed my order because the last time they ordered anything that truly tasted good was a distant memory. Turns out it was a damn great decision because without this new rule in my life, I wouldn't have my fellow foodie girlfriends Tannaz and Rachel in my life which means I would have never been introduced to my summer food crush and what I seriously consider the best new addition to my Fairfax district neighborhood – The Golden State Café.
Located on Fairfax Blvd, smack dab across from Canter's Deli, is the laidback and downright delicious Golden State which serves the kind of food that even if you were on the date from hell, you'd be able to withstand it because the food here is just that good. Seriously. So courtesy of the advice Tannaz and Rachel gave me, here is what you should be indulging in the next time you want to eat a meal that reminds you why eating is an activity that is meant to be enjoyed.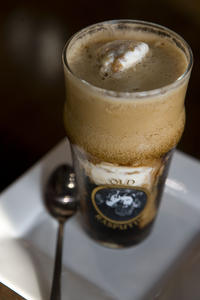 First, walk up to the counter. Don't be tempted to order the gelato for your meal because you will miss out on the best thing on the menu – the burger. This won't be easy because the gelato is made by the local LA gelateria Scoops and the flavors are always different and yummy. But you can do it. Just remember to save a little room for a scoop later. Most likely, the cute and friendly Jason, one of the owners, will be behind the counter and will help you navigate your beer or wine selection. Jason is a man who knows his beers so don't be shy and ask him for a recommendation. In addition to his beer expertise, you'll quickly learn that almost everything served food or beverage wise at the Golden State is locally made. For the dark beer lovers, the beer float (Rasputin beer with a nice big scoop of the Brown Bread gelato) is definitely worth trying. Now that your drink is out of the way, order the burger. I know what you're thinking. What's so special about this burger?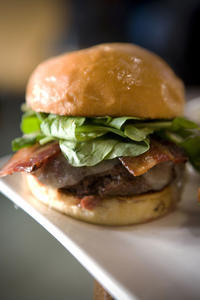 After all, this is LA where every kitschy joint serves a burger but this is not your every day burger. Not even close. This is a burger that's made with Harris Ranch beef, Fiscalini Farms Cheddar, Glazed Applewood Smoked Bacon, Argula, and Housemade Aioli and Ketchup. This is a burger that you will pair with fried sweet potato wedges or Persian Cucumber salad and wonder how you've made it all these years without this exact meal. Once you've placed your order, grab any table that's open and within minutes, you can see why my strict rule on not befriending unhappy eaters has been well worth it.
Besides, the Golden State also falls into my latest life change. I've started avoiding residents of LA who hate the city. What kind of person doesn't like a place where you can wear flip-flops year round, get your daily dose of Vitamin D by just walking out into the perpetually sunny weather, and has some of the best prime people watching around? On my last visit to Golden State, I learned that one of the reasons the owners opened up shop was out of love for their native city. They wanted to serve up great food for their fellow Angelenos. I don't call this place my summer crush for nothing.
For delicious burgers, hot dogs, gelato, and beer, drop by the Golden State Café at 426 North Fairfax Avenue, Los Angeles, CA 90036. You can find also them online at www.goldenstatecafe.com