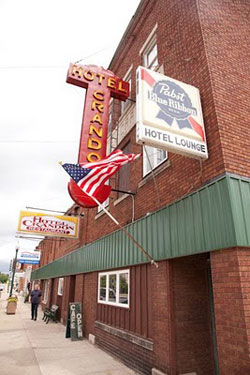 The Hotel Crandon Restaurant in Crandon, Wisconsin came highly recommended from the ladies at the local visitor's bureau. Seems the husband of one of them liked their Hotel Heart Attack burger very much. How could I resist. I had stumbled into the visitor's bureau after being unable to find Ed's Main Street Grill, which turned out to be 20 miles farther off my path in another town. (Never trust a free tourist pamphlet.)

I walked into the restaurant and all heads turned to see the interloper into their small town haven.
Undeterred, I sat at one of the tables covered neatly in red vinyl tablecloths. A very pleasant server greeted me in that familiar northern Wisconsin accent and I was put right at ease. I ordered the Hotel Heart Attack ($5.95), which features both burger and bratwurst patties, pepperjack cheese and grilled onions. The menu states "Doctor's Release Required". My cardiologist recommends such fare and also encourages I wash it down with scotch. I added fries for an additional $2.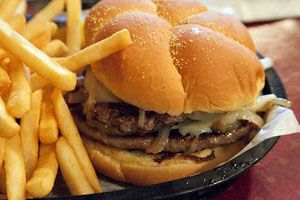 The burger is a very handsome looking sandwich, sitting on a soft Kaiser roll. The bratwurst was on the bottom, hand-formed burger patty on top of that, with Pepperjack and onions evenly distributed on top. I added mustard from the accompanying packet. The Hotel Heart Attack was great. The brat dominated the flavor, but with the cheese and onions, everything seemed to work well. I had no trouble finishing the sandwich and lived to write about it. I was very pleased to get my Wisconsin brat and burger experience in one fell swoop.

The medium-cut, piping-hot fries were amply supplied and very tasty. As I ate them, I overheard an introduction at the next table. "This is Bill he and John fought in World War one on opposite sides. Bill came to this country after the war." What a cool little town in which to have a burger.


Hotel Crandon Restaurant
200 N. Lake Avenue
Crandon, WI 54520
715-478-2414
- Also published on Hoosier Burger Boy