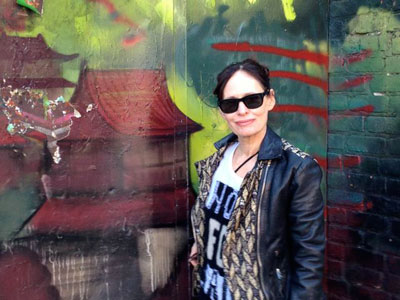 Two different people recommended a seafood shack in the West Village in New York. Two people – it's a sign.We must try it, I said to my oldest-newest-best-friend. We waited in the predicted long line—something I hate and generally do not engage in We chatted with out-of-towners and I offered up my favorite food destination, Morandi. Then we were told to grab two seats at the counter. I pointed to my left, a quick celebrity sighting, an offbeat one. Louise Lasser. A former Mrs. Woody Allen.
Libbie kept telling me she could NOT be Louise Lasser since she was far too young. We argued back and forth as I stood my ground. Turns out she was talking about the waitress and I was talking about Louise Lasser, eating a dainty kale salad. That's not what I would order, I thought.
We went for it, ordering too much -- partly due to hunger. A few appetizers that sounded southern and perfect. Fried Green Tomatoes, which, honestly, I can never resist. Libbie loves deviled eggs, so an order of those, and a shrimp, crab and avocado cocktail. And of course a lobster roll, at "market price," which means expensive, $32.00. I had no problem with that, as it might have made it worth the subway trip downtown. Turns out, the deviled eggs were made with sour cream, not mayonnaise. So, after one bite, I put mine down and knew never to order those again. Then, the Fried Green Tomatoes, not great at all. Followed by the lobster sandwich, which was fine but certainly not the best I'd ever had. What a waste, I thought, of ingesting fattening food. What a waste of money. This was off my list, not that it had yet made it on.
I asked for the bill. Took a quick look, threw down my credit card, and ran to the bathroom, where it suddenly flashed on me that they had undercharged us by either three appetizers or one terribly expensive lobster roll. I am an honest person, but I was miffed at the dining experience. I ran back upstairs and whispered that we needed to leave quickly. I felt like I was ditching out on the bill, which I guess I was, or at least part of it. I rationalized: all I was doing was paying the fair amount for food that I barely ate and really wasn't impressed with. Can you blame me? I throw myself on the mercy of the court.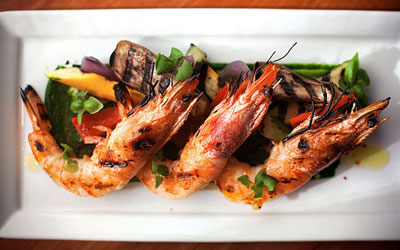 Moving to dinner the same fateful day. Libbie was craving what we ate the first night. So, back to Boulud Sud for the Mediterranean Mezze, which we love, plus an appetizer we drooled over the night we arrived from L.A., just three days prior. Disappointment all around. Yes, we ate everything. But the scampi appetizer wasn't the same brilliant dish as before, all garlicky and delicious.
We needed to make up for the bad food day. After all, we're in New York where the cuisine is all so exciting, and we have these high expectations. We were going to get them filled, damn it. And so we did.
First, we spent a whole day pretending to be healthy. There is a little café in the Elinor Bunin Munroe film center at Lincoln Center that serves very fresh, healthy soups, salads and sandwiches. Great small sides, like quinoa and vegetables. The place used to be a well-kept secret, but not anymore.
For dinner, we opted for Japanese at Momya, which I'd never been to. I figured I'm from Los Angeles, land of first-rate Japanese food, so when in New York I want to try all the other ethnicities. But everything we ordered at Momya was so fresh and great. The spicy tuna on crispy rice, and their signature Bakudan, which is a snow crab & avocado roll topped with seared spicy scallop and shrimp. Lesson learned. I now know where to go for Japanese food in Manhattan.
We were headed to an Off Broadway play downtown, so I would finally try dinner at Buvette, a favorite lunch spot in the West Village. The grilled bread with anchovies was possibly the best thing I ate all week, and I can't get it out of my head. If there were one dish to recreate, this would be it.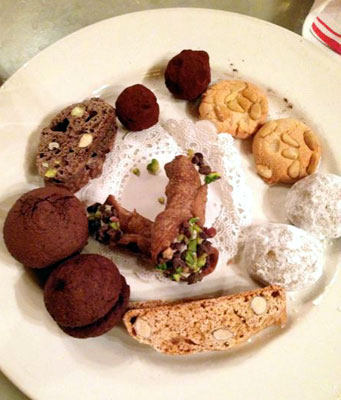 Then came the day of eating perfection. Cue the inspirational music. Starting with lunch at my favorite restaurant, Morandi. I love going on a Saturday or Sunday for the brunch menu. I always order the eggs on focaccia, and this time was no different. We also shared a Bibb lettuce salad made with a perfect vinaigrette. What I enjoy most on weekends at Morandi is the fresh cherry jam, served with bread and butter. I was a little bummed out by the service not being top notch, but all restaurants have off days. When we asked for the bill, it was taking them forever to bring it.
What finally arrived instead was a large plate of assorted cookies and an announcement from the hostess that there would be no check. I thought, wow, amazing, they're taking care of our bill because the service wasn't great, but I was wrong. Our meal, we were informed, was paid for by our mutual best friend Robin. Libbie was so touched there were tears in her eyes. We are such big fans of Robin, singing her praises all the time, and now this. Sainthood.
Next, we headed off to parts unknown—Brooklyn. I had heard of a restaurant called Diner, but was willing to try anything great. The young woman showing us around, Jennifer, hip and in the know, told us about a few places she liked, but she could tell I was sort of determined to try Diner. We meandered there, about a mile from Jennifer's home, and really got the feel of Williamsburg. It's ultra cool. I probably don't fit in by at least 20 or 30 years, but still, we wandered, enjoyed and took lots of pics with different graffiti backdrops. See, I still fancy myself hip -- even if hip, at my age, is often joined with the word replacement.
Jennifer warned us there could be a wait and there was a no reservations policy. 'No reservations' is the new black. Diner, when it opened in 1998, is where the Brooklyn food scene was born. The setting is exactly as you would expect, a narrow, old school dining car from 1927. Gourmet food in a diner -- they were such trendsetters.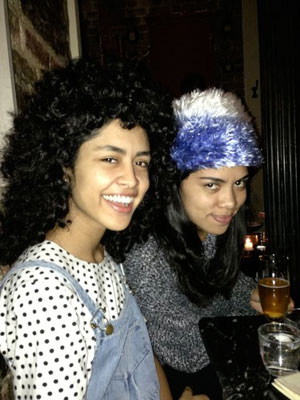 The waitress handwrote all the daily specials on our paper tablecloth. I loved that touch. She and just about everyone seated around us had 1980's hair. I'm not kidding, almost a mullet of a curly type fro was ubiquitous. When we asked Jennifer about the look, she explained that the hairstyles were ironic. Ironic?
In the next 24 hours, I heard ironic in this same context maybe three different times. I love being up-to-date on culture and trends. So, now you are too -- ironic is trending. Like "sick" once was — meaning great. Or "props," a compliment, short for 'proper respect.'
One of the specials was grilled bread (I'm a grilled bread freak) topped with chopped soy beans and lardo. Not kidding, lardo. As I did, you may be thinking: You say tomato, I say tomahto, You say lardo, I say lard. But no, lardo, is not lard, which is strutto in Italian. Lardo is actually a cut of meat from the pig, and not just the fat.
Jennifer, a vegan ordered the lardo grilled bread without the lard. She also selected a salad of mustard greens with yogurt dressing. Libbie and I chose to share the cheeseburger but never thought it would be as brilliant as it was. I'm so impressed. Have I mentioned that if I fall in love with a dish at a restaurant they will invariably take it off the menu? It's a plot. My favorite cheeseburger, at Prune in the East Village, is no more since they are now closed for lunch and it was on the lunch menu. I tried Jennifer's no lardo bread and decided I needed my own order WITH lardo. Oh my God!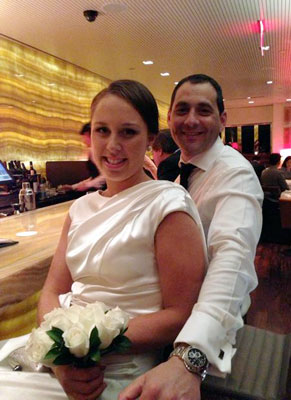 Last night in New York we walked over to Marea, an Italian Seafood restaurant on Central Park South. I was originally told about it by other true foodies I met while eating at Le Comptoir in Paris. We were seated casually at Marea's bar and were so happy with our meal of pacific snapper crudo and gnochetti with ruby red shrimp, chilies and rosemary.
As we were leaving, a couple of newlyweds arrived. The bride, still carrying her bouquet, was dressed in a floor-length white wedding gown. The pair looked like they walked off of a wedding cake. They told us they had just eloped and this was to be their first meal as a married couple. At the bar. I was so taken with them.
As we left, Libbie whispers in my ear, "There's your guy." I don't know what she's talking about and then he, my guy, comes into focus. It was a fangirl moment when I realized it was—my guy--Dr. Oz!! I nearly screamed.
As I walked through the revolving door, I turned and said, "We love you and look, we are eating healthy because of YOU!" He replied, "You look healthy." And then we walked back home, me gushing all the way about my fun celebrity sighting.
Fredrica Duke shares how she discovered her love of food while growing up in Los Angeles on her blog Channeling the Food Critic in Me.