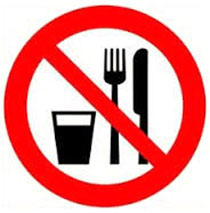 It's almost Yom Kippur and for those of you who are fasting, I can imagine the whining by four o'clock. "I'm hungry. Yikes this is hard." It actually is kind of hard not to eat for a day and I am not in awe of people who go on prolonged cleansing fasts, as I'm not sure it's actually good for you.
But fasting on Yom Kippur is a tradition and one that is honored by many on what is called The Day of Atonement. Even the origins of fasting are murky. There is possibly one biblical reference to fasting which I read in an article in the Israeli newspaper online, Haaretz: "ye shall afflict your souls," which, the author in Haaretz states, "elsewhere in the Bible usually refers to fasting."
But it's a tradition that's stuck, which brings me to break fast. One would think break fast would be an extraordinary meal, filled with all kinds of special and unique dishes. But in Los Angeles, at least, a city I can speak to, when you go to someone's house at sundown for break fast, it most closely resembles breakfast at a deli rather than an evening feast. Bagels, cream cheese, & lox abound. Blintzes are often featured. Often accompanied by scrambled eggs.
It almost makes sense. After you've fasted, you generally want something light and brisket wouldn't be the ticket. On the other hand, I could be talked into some brisket hash with poached eggs!
But what I always love to have for dinner, once or twice a year, and possibly for break fast is My Mother's Lox, Onion, & Eggs!
My mother made perfect lox, onions, and eggs. Except it isn't really lox, onion, and eggs, it's nova scotia, onions, and eggs. And nova scotia's best when it comes from a deli department, loose or fresh-sliced, instead of a package at the grocery store.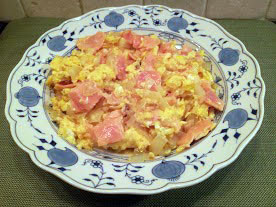 Chop a yellow onion (like a quarter of a yellow onion) into small pieces and saute in a lot of butter (sweet butter, not salted), slowly, on a moderately low temperature, until the onion gets soft and yellow-ish, not brown, do not brown or burn the onions). When the onions are soft and golden yellow, add a little more butter and a quarter of a pound of nova scotia salmon also chopped into small pieces. Sauté the salmon with the onions until it starts to look a little paler than it was, but don't overcook. Also on a low flame.

Beat 7 eggs really well in a bowl with a whisk, fluffing as much air as you can into them.

Add a little more butter to the pan. Add the eggs to the nova and onions and stir and scrape and cook on a moderate flame, letting it rest for a second, then scraping, and so on. If it starts to cook too quickly, turn it down a little bit, so that it cooks slowly! Cook until the lox, onions and eggs are cooked all over and mixed but still a little "soft". (Not runny but soft.)

Spoon into a serving bowl and serve immediately with fresh toasted bagels and cream cheese and any jam you have on-hand. (Serves 2, double or triple if you're having more guests.)
Serve with bagels and cream cheese. And, if you want to be fancy and serve two courses, try this amazing borscht from the chef at Petrossian!
Adapted from Michael Lipp's warm borscht soup
Executive Chef at New York Petrossian

1½ quart chicken stock or canned chicken broth
2 teaspoons salt
1½2 lb. carrots, cube
1½ savoy cabbage, shredded
1½ lb. beets, roasted and cubed
1 Granny Smith apple, peeled and cubed
1½ cup honey
1½ cup balsamic vinegar
ground black pepper to taste
1½ cup crème fraiche (optional)

Preheat oven to 350° F. Place beets in a casserole with enough water to cover by one-third. Cover with aluminum foil and place in oven. Roast until fork-tender approximately one hour. Peel the skin from the beets and cube. Reserve (the beets can be roasted the night before preparing the soup).

Pour chicken stock into soup pot and simmer over medium heat. Add salt and cubed carrots and continue to simmer for five minutes. Add beets, apple and shredded cabbage and simmer for another three minutes. Add the honey, balsamic vinegar and any additional seasoning. Stir and simmer for another three minutes. Remove from heat and serve.

The borscht should be served with a dollop of crème fraiche. If you don't have crème fraiche, you can substitute sour cream. This recipe can be made and kept in the refrigerator for up to three days before using.
What are you making for break fast?
Amy Ephron's latest book is "Loose Diamonds...and other things I've lost (and found) along the way."