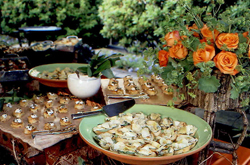 I live in Arkansas though my political interests extend well beyond my state. My husband Max and I have entertained politicians and their faithful followers on many occasions. In the South we open our homes for such events with no thought of using restaurants, hotels or any other such impersonal locations. It was Bill Clinton this morning for breakfast with an enthusiastic group of Hillary's supporters. The southern spin on the menu included sausages in puff pastry and creamy cheese grits. We boxed food for the road as President Clinton moved on to south Arkansas rallies.

I love politics but I love it mixed with creative decorations, food and some measure of frivolity. I often incorporate enlarged political cartoons on my tables or hang funny caricatures and signs from the loggia ceiling. I once had a word-game contest at a debate watching party. Another invitation encouraged folks to bring their favorite cartoons so we could poll the guests for the best. At one of the events we hosted during Wes Clark's campaign, I mossed a topiary donkey for the centerpiece of the dining table and gave the food political names like "caucus canapés" and "primary pasta."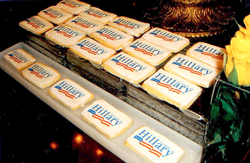 Handmade cookies with Hillary's logo were a hit at a party we threw to reunite her with friends during her second senate campaign. So many supporters packed into our home last summer to cheer her on for her presidential bid that I choose a modern presentation of easy pick-up hors d'oeuvres displayed on lighted glass blocks. Her favorite was the spicy gazpacho served in shot glasses.

I think people who care about the current issues and the politicians who argue them deserve to be totally entertained, not only by the lively debate, but with eating, drinking and making merry.


Kaki Hockersmith is an interior designer. Her work at The White House and the Clinton Presidential Library are among the most prestigious. Kaki makes entertaining a hobby.