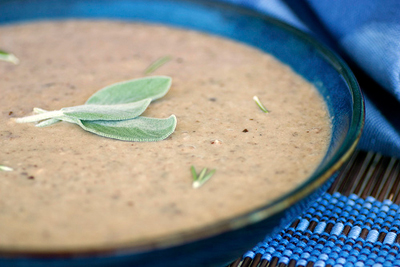 Mushroom soup should be like a good friend -- there for you when you need it, full of understanding and comfort, and spicy enough to make you laugh. Consider this Creamy Mushroom Chestnut Soup a best friend.
We met rather informally last fall in my kitchen while I was entertaining a number of other friends including tender red bliss potatoes, earthy chestnuts, and aromatic sage. We liked each other instantly, and our friendship has continued to grow.
Meaty, smoky chestnuts and savory fresh herbs add depth to an otherwise ordinary, creamy mushroom soup. Use bottled, dried, or -- if you're up for the challenge -- freshly roasted chestnuts. For a richer soup, I suggest using cream; 2% milk is best if you're looking to save calories.

I'm not a possessive person, so I'd like to introduce you to her. She'll be one of the truest friends you've ever had.
Creamy Mushroom Chestnut Soup
Serves 4

3 tablespoons butter, divided
1 tablespoon olive oil
1/2 cup diced shallots
1 cup diced celery
2 1/2 cups peeled, diced red bliss potatoes (about 3)
8 cups mixed mushrooms, cremini and white button (about 2 1/2 pounds)
4 cups mushroom broth
8 ounces cooked chestnuts (about 20)
1/2 teaspoon ground cinnamon
1/4 teaspoon ground nutmeg
1 tablespoon fresh chopped rosemary
1 tablespoon fresh chopped sage
1/4 teaspoon sea salt
1/4 teaspoon freshly ground black pepper
1 1/2 cup cream
fresh sage, rosemary, and chopped chestnuts for optional garnish

1. Warm 2 tablespoons butter and 1 tablespoon olive oil in a large, deep pot over medium heat. Add shallots and celery, and sauté 3-5 minutes. Add potatoes and mushrooms, and cook for 8-10 minutes, or until mushrooms have released most of their liquid. Add broth, and bring to a boil. Reduce to low, and cook until potatoes are tender, about 10-12 minutes. Add chestnuts, cinnamon, nutmeg, rosemary, sage, salt, pepper, and cream. Turn off heat, and let cool for 10 minutes before pureeing.

2. Working in batches, puree the soup in a blender until smooth; return to the pot over low heat. Stir occasionally until the soup is thoroughly heated, about 10 minutes. Just prior to serving, stir in remaining 1 tablespoon butter for added creaminess and depth of flavor. Season to taste with salt and black pepper. Garnish individual bowls with fresh herbs and chopped chestnuts, if desired.